Guided tours of the African Studies Centre Library
The ASC Library has a large collection of books, films, newspapers and journals from and about Africa. The library has about 100,000 titles in total. Many of our copies are on paper, but the digital library is growing rapidly. Everyone is welcome to make use of this collection.
Groups of students, for example from colleges in Haarlem and Rotterdam and students from various Dutch (and international) universities, visit us regularly. We also often receive employees of embassies, NGOs and groups of school children working on a project.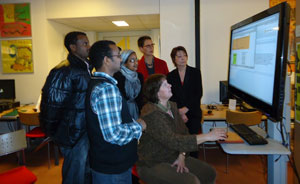 We are happy to show visitors what this special library has to offer, and we can focus the tour and presentation on the relevant programme. In a brief presentation, we tell a little about the Africa collection, our way of working and the services we offer our customers. For students, who are often completely au fait with Google, it is interesting to see that working with a library catalogue or with databases is something quite different. We can give instructions and help when searching for information, and this often turns out to improve people's Google searches.
When requesting a tour, you can specify what topics your group is interested in. We can then find relevant books and films so that you can see what is available. If required, we can also ask an ASC researcher to tell you something more about a specific subject.
You can request a tour, at least one week in advance, via asclibrary@ascleiden.nl.
Posted on 12 November 2015, last modified on 8 December 2015