Graça Machel scholarship announced for female South African students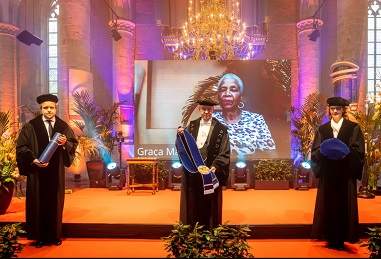 On the occasion of the conferral of an honorary doctorate to Mozambican children's rights activist Graça Machel, a 60,000 euro fund has been set up to enable two female students from South Africa to study in Leiden each year. The fund was announced by the Dean of the Faculty of Law, Prof. Joanne van der Leun, during the 446th Dies Natalis of Leiden University on 8 February 2021. Prof. Van der Leun presented the fund after Mrs Machel had been awarded an honorary doctorate.
The Graça Machel scholarship is intended for female South African students who wish to follow the Master of Laws Advanced Studies programme in International Children's Rights at Leiden Law School. (
Upcoming deadline for application: 1 April.
)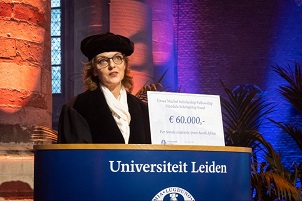 Mrs Machel was nominated for the honorary doctorate by Professor of Children's Rights Ton Liefaard. Graça Machel's role as a leading advocate for peace, human rights and child rights has been of fundamental importance to improving the long-term prospects of women and children, Prof. Liefaard said just before the honorary doctorate was conferred. 'Leiden Law School is convinced that Mrs Machel will continue to serve as a beacon to many of our students and researchers here in Leiden and The Hague, because for many of them she is a role model, an icon, not just in Africa but all around the world', he stated. After Machel's words of acceptance, it was the turn of Prof. Joanne van der Leun, Dean of Leiden Law School, to pay tribute to the new honorary doctor. She did so by announcing the fund in Mrs Machel's name.
Posted on 11 February 2021, last modified on 11 March 2021