Four successful candidates awarded PhD studentships through University of Edinburgh - Leiden University partnership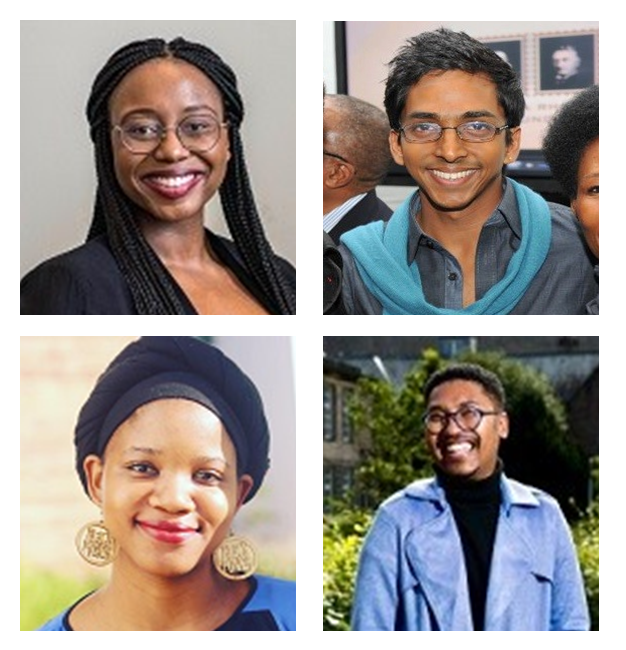 Out of a total of 120 applications, four successful candidates have been awarded PhD studentships in African Studies through the partnership between the Universities of Edinburgh and Leiden. The PhD candidates will be fully funded for four years and will start in October 2020.
The four PhD students will be supervised by promotors in Leiden and Edinburgh. Two candidates will be based at the African Studies Centre of Leiden University, and two at the Centre of African Studies of the University of Edinburgh. The Leiden candidates will spend at least one year in Edinburgh, and the Edinburgh candidates at least one year in Leiden. Their research proposals had to relate to urbanisation, urbanity, and urban diversity in relation to African Studies.
The Leiden based candidates are Mandipa Ndlovu (Zimbabwe) and Kershan Vikram Pancham (South Africa).
Mandipa Ndlovu is a qualitative research analyst with a focus on gender justice, institutional reform in (post–) authoritarian governments, political economy, transitional justice, human capacity development, the rule of law, as well as legacies of violence and trauma in Africa. Her broader research interests seek to understand the effects of the aforementioned on ordinary citizens at the intersection of sustainable governance strategies on the continent. Both as an educator and researcher associated with the academy, she believes in contributing to the knowledge production and policymaking processes in Africa by providing nuanced views that help positively contribute to bettering the continent's human rights, governance, and development trajectories. Mandipa holds a Master of Science (MSc) degree in Violence, Conflict and Development from the School of Oriental and African Studies' (SOAS) Department of Development Studies in London where she was a 2017/18 Mo Ibrahim Scholar for the Governance for Development in Africa Initiative. Mandipa also holds a second Master of Philosophy (MPhil) degree in Justice and Transformation from the University of Cape Town's Political Studies Department.
The title of her research proposal is: Conceptualising Governance and Urbanity in Independent Zimbabwe. Ms Ndlovu will focus on the relationship between the city, the military and underdevelopment in Zimbabwe. In her research proposal, she writes: 'Whilst the cycle of elite patron-client accumulation through the acquisition of public resources and rents continues, more ordinary citizens trying to sustain themselves through an informalised existence will be subjected to military-style operations used to purport state sanctioned "order".' Her main research question is: 'What key factors have, and continue to, contribute to Zimbabwe's "counter-urbanisation trend" since the turn of the century?'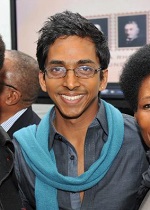 Kershan Vikram Pancham is a public educator, researcher and artist dedicated to justice, rights, aesthetics and freedoms of everyday and ordinary people. Their research focuses on diversity and differences that matter in society, with a sensitivity to the body, dispossession, humiliation and agency, as they pertain to children and LGBTQ peoples. Kershan holds an MPhil in Sociology (Diversity Studies) with distinction, University of Cape Town, 2017. Their thesis about child-parent narratives with Indian-Durban orientations was shortlisted for the Africa Thesis Award 2017 and was staged for the public through the ICA ProHelvetia Live Art Performance. The title of their PhD research proposal is: Performing Bodies across gender, race and spirit borders in South Africa. An ethnography of urban diversity focusing on Indian-African spirit-performers of tokoloshes, ufufunyane and nagara-pachara in relation to dis/possession in the KwaZulu-Natal region.
Ufufunyane (spirit possession) and tokoloshe hauntings have been studied as belonging to Zulu people and other Nguni groups in the Southern African regions. However, it is lesser known that ufufunyane possession and tokoloshe hauntings also occur in Indian communities who have lived in borderzones with Zulu people in KwaZulu-Natal, South Africa. The central research question is: What are the features of such cosmological 'intelligible diversity' across race, gender, spirit/corporeal, and caste borders in the urban borderland?
The Edinburgh based candidates are Brindley Fortuin (South Africa) and One Pusumane (Botswana).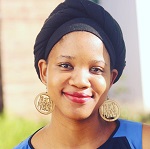 One Pusumane: "My name is One Pusumane, and I am from Botswana. I recently graduated from the University of Cambridge, where I was studying the MPhil in African Studies and was part of the Middle Combination Room (MCR) committee as Trinty Hall's Women Officer. My research topic for the PhD builds upon my MPhil work and is titled Anti-trafficking Work in Nigeria: Solidarities at the Intersections of Gender, Urbanisation and Human Trafficking. The research aims to understand the contradictory relationship, one of autonomy and the other of precarity experienced by young trafficked Nigerian women in and from precarious urban contexts; specifically, the Makoko area in Lagos. At the core of this research is understanding how individual agency is conceptualised and accounted for when the 'ideal victim' does not fit the existing victim-perpetrator model within the anti-trafficking discourse.
My research interests include gender and development, African feminism, human rights, security, inequality and poverty. After my PhD, I would love to work with NGO's focused on gender and grassroots development for marginalised communities. In my spare time, I am at the gym, taking up a few kickboxing classes and hoping to get my coach certification soon. Currently, I am a content creator for a FemInStyle magazine and a Summer 2020 Fellow for The African Women's Development Fund (AWDF)."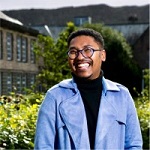 Brindley Fortuin: "I am an MSc student at the University of Edinburgh. Through my master's I focus on the intersection of Christianity and Race within the lived experience of gay men in Cape Town. My activism is primarily on LGBTIQA+ rights, race and religion. Born and raised in Atlantis, a Coloured township on the periphery of Cape Town, I am known for my activist work at a community level. In 2017 I completed my undergraduate degree in Politics, Sociology and Religion and completed my Honours in Sociology at the University of Cape Town, South Africa. I had previously done work on race and identity in South Africa.
My preliminary title for my PhD is 'From the township to the Mother City: (Trans)mobility and (Trans)visibility in Cape Town, South Africa' and the whole PhD journey is centred around the question of movement between and within space. Especially how space enables and constrains expressions of gender. The Transgender community is highly marginalised, even within the LGBTI+ community of which they are a part of. Although this is the universal reality for transgender persons, in African societies, the violence is even more structurally embedded and policed. This project is thus hugely political, and it explores not just abstract bodies and phenomena, but human beings who are too often and casually subjected to violence and dehumanisation."
Posted on 8 July 2020, last modified on 15 September 2020