Foreign direct investment and poverty alleviation. The case of Bulyanhulu and Geita gold mines, Tanzania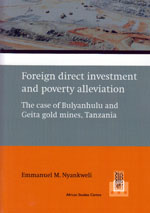 This PhD thesis seeks to quantify the economic, social and environmental effects of the gold mining sector as a component of foreign direct investments in Tanzania and its contribution to poverty alleviation. In addition to highlighting the socio-economic gains and losses, by exploring the corporate the social responsibility policies and practices, the book also traces the private-public partnerships with local communities around the two mines under consideration (Bulyanhulu Gold Mine Ltd. in Kahama District and Geita Gold Mine Ltd. in Geita District, north-western Tanzania). The book is expected to further stimulate the debate on the relationship between profit, corporate income taxes and corporate social responsibility as well as its implication for foreign mining companies. It also sheds more light on the contribution of the mining sector to Tanzania's economy. The book concludes that the economic growth associated with the mining boom, albeit limited, is significant to the rural communities around the mines.
African Studies Collection 44
Link to full text
How to order
You order this publication by sending an email to asc@ascleiden.nl. The price of this publication is €15,- (postage not included).
Posted on 21 November 2012, last modified on 18 December 2012