Film seminar: De leegte en het woord / The last frontier, with guest Gabriel Bamana
This seminar is organized together with the International Institute for Asian Studies in Leiden.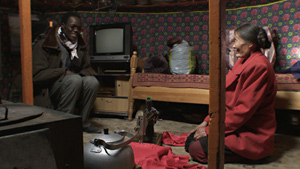 In the sparsely populated Mongolian steppes, wedged between China and Russia, an army of foreign spiritual do-gooders fight for the minds and souls of three million Mongolians. One of them, an African Catholic from the Congo, decides that his missionary work is no longer appropriate in today's world. After 70 years of Socialism, Mongolia is rediscovering its own Shamanist and Buddhist roots and missionaries like him are controversial to say the least.
One of the main characters, Gabriel T. Bamana (D.R. Congo), will be present and available for questions after the screening.
Willem Vogelsang, IIAS, will be moderator.
The documentary is made by Floris-Jan van Luyn in 2011.
Programme
15.30-16.30 Screening of the film
16.30-17.00 Q&A
17.00 Drinks
Please register for this seminar at: h.m.van.der.minne@iias.nl (Ms Heleen van der Minne, IIAS)
Since 2007, Gaby Bamana is affiliated as a researcher to the National University of Mongolia. Moreover he is part of The Art Institutes in Greater Minneapolis-St. Paul Area and he works as a senior researcher D.R. Congo for Oxfam Novib. Next to these functions, he recently started to work as an associate researcher at the Center for East Asian Studies of the University of Groningen, The Netherlands.
Date, time and location
IIAS, Rapenburg 59, Leiden
Posted on 22 April 2016, last modified on 2 May 2016