Festive presentation of new ASCL professors and inaugural lecture Marleen Dekker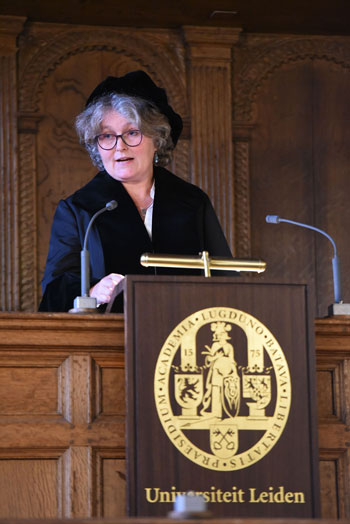 Monday 9 October was a festive day for the ASCL: the newly appointed ASCL professors gave short lectures about their Chairs and research intentions, and Marleen Dekker gave her inaugural lecture as Professor of Inclusive Development in Africa.
Watch the video below.
Prof. Jan-Bart Gewald, director African Studies Centre Leiden, gave an overview of the new ASCL research programme, which will be based on the Chairs' research intentions, and of his own plans as Chair African History. Prof. Mirjam de Bruijn gave an introduction to the Leiden African Studies Assembly (LeidenASA), that will be joined by Africanists from the Delft and Erasmus universities in the coming years, and presented the intentions of her Chair Expressions of Citizenship and Identity in Africa. Prof. Chibuike Uche described his aims for the Stephen Ellis Chair in the Governance of Finance and Integrity in Africa. Prof. Jan Abbink, Chair Governance and Politics in Africa and Prof. Rijk van Dijk, Chair Religion in Contemporary Africa and its Diaspora, previously held chairs at other universities and have now been appointed as professors at the African Studies Centre Leiden. Rijk van Dijk announced the establishment of a Graduate School at the ASCL, which means all ASCL professors will be able to mentor PhD students at the ASCL. Rijk van Dijk is the intended coordinator of the Graduate School, that is anticipated to start in 2018.
Take a look at the pics below (click on a photo for enlargement).
Photos Marleen Dekker: Jeroen Hiemstra.
Read Jan-Bart Gewald's lecture.
Read Marleen Dekker's inaugural lecture.
Read Jan Abbink's lecture.
All other presentations will be published on this page in the coming weeks.
Posted on 10 October, 2017. Last modified on March 5, 2018