Exhibition 'Vive la paix': Paintings by Ibrahim 'Lodia' Diallo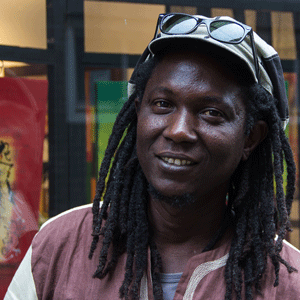 Colourful paintings by the Senegale painter Ibrahim 'Lodia' Diallo: Vive la paix
Ibrahim 'Lodia' Diallo (Dakar, 1974) is a versatile Senegalese artist who, since 2013, has lived and worked in The Hague, the Netherlands. His original work ranges from traditional to timeless and his style is expressive, colourful and cheerful. Lodia's West African art is conspicuous for its inspiration, flair, swinging characters and heartfelt messages.
A number of themes resonate in Lodia's paintings: His work represents images of West African traditions and culture, such as dance and music, and he depicts daily life in the community of Casamance (southern Senegal), where time seems to stand still and traditions are kept alive. Love is a great source of inspiration for Lodia, along with the essence of living (together); his work reflects his belief that both are a path to world peace and the future. And he depicts the beauty of the traditional versus the need for progress.
Each painting is a little lesson in life, a source of inspiration and, simply, a unique piece of work that brings colour to homes and lives.
Besides being a painter, Ibrahim 'Lodia' Diallo is a singer-songwriter too. His melancholic afro-folk touches the heart and soul. You can listen to his songs and see more artwork on his website: www.lodiart.nl.
The exhibition 'Vive la paix' can be seen in the 'Bamboo lounge' on the 3rd floor and in the ASC Library (ground floor). The exhibited artwork is also available for purchase (prices between 40€ and 500€).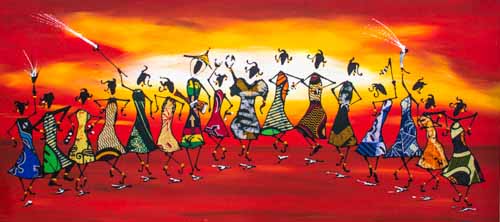 Date, time and location
06 October 2015

to

31 December 2015
ASC Library (ground floor) and Bamboo lounge (3rd floor)
Posted on 6 October, 2015. Last modified on December 18, 2015