Exhibition: Music on African stamps: Western music
Music on African stamps 2: Western music
Music as an expression of national identity is a common theme on stamps. That was also the case with the stamps of the previous Music-on-African-stamps exhibition. However, the stamps of the present exhibition show a very different picture, which has nothing to do with national identity: European composers and western "heroes of popular music".
European composers
Togo was in 1967 the first African nation to issue a series of European composers. In the years thereafter, many other African countries followed, mostly to 'celebrate' a year of birth or a year of death. Sheets 1 and 2 show the following "highlights":
1970: 200th birth year of Ludwig van Beethoven (Dahomey, Cameroon, Niger, Rwanda, Senegal)
1974: 150th year of death of Ludwig van Beethoven (Gabon, Sao Tomé e Principe)
1980: 100th year of death of Jacques Offenbach (Benin, Congo-Br., Gabon; only former French colonies!)
1982: 100th birth year of Igor Strawinsky (Sao Tomé e Principe)
1985: 300th birth year of Johann Sebastiaan Bach and Georg Friedrich Händel (CAR, Congo-Br., Guinee-Bissau, Mauritania, Sierra Leone)
1991: 200th year of death of Wolfgang Amadeus Mozart (Benin, CAR, Gambia, Senegal). On this occasion, Ghana and Tanzania excelled with an image of a scene from Le Nozze de Figaro and with an aria from Cosi fan Tutte, respectively.
Black heroes of popular music
These images may have a link with African identity, but very little with national identities. In the early 1970s, some nations issued stamps showing for instance Louis Armstrong, later followed by many other countries and many other black musicians such as Billy Holiday, Muddy Waters, Mahalia Jackson and Howlin Wolf (Gambia), Errol Garner and Lionel Hampton (Gabon), Duke Ellington (Mali), Jimmy Hendrix (CAR), Bob Marley (Burkina Faso), Michael Jackson (Guinée) and Stevie Wonder (Tanzania). In 1992, Tanzania issued a block showing 9 black heroes of popular music.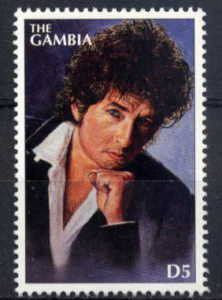 White heroes of popular music
Also white heroes of popular music are shown on African stamps. The absolute front runner is Elvis Presley, whose whole life history is portrayed on a block issued by Gambia on the occasion of Elvis' 60th birth year. Guinée portrayed Elvis even in gold. Other examples on Sheet 4 are The Beatles (Burkina Faso), John Lennon (Chad), Bing Crosby and Judy Garland (Ghana), Jerry Garcia (Mali), Janis Joplin (Niger), Bob Dylan (Gambia) and Madonna (Chad).
You are welcome to take a look!
Date, time and location
15 January 2013

to

01 July 2013
Pieter de la Courtgebouw / Faculty of Social Sciences, Wassenaarseweg 52, 2333 AK Leiden
Posted on 28 February 2013, last modified on 1 March 2013