Exhibition: Karin Voogd's Book Covers for a Library of the Arts in Lamu, Kenya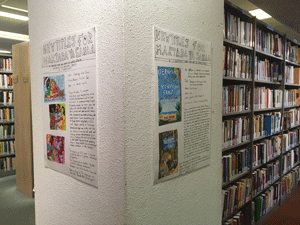 Artist Karin Voogd writes:
"In February 2016, I began a project to establish an art library in Lamu called Maktaba ya Sanaa. Books and DVDs are an inspiration for people who want to be artists or want to know more about culture. Lamuans are very interested in art and the city, renowned for its festivals, is on UNESCO's World Heritage list.
Most African libraries depend on donations and Maktaba ya Sanaa is no different. With the donations that we hope to receive, we will buy titles that have been suggested by people who are close to Lamu or to art and who know what young art lovers on the East African coast need to become artists or to know more about art and heritage.
The book covers that I have drawn are of books that are on my wish list for the library. Some of the titles are suggestions, for example, Nairobi-based artist James Njoroge said I should purchase the book on Kenyan Contemporary Art by Margaretta wa Wacheru. Until now, this thesis has only been available as an E-book, which poses a new challenge: what should we do with online material in this library?
Another suggestion came from Lamu's official librarian, Khadija Issa Twahir, who proposed buying a book on Indian Culture. So, when I came across a book on Pakistan Miniatures by Virginia Wiles, it seemed appropriate and I added the title to my wish list. In turn, I have asked Virginia Wiles for her suggestion for the Maktaba ya Sanaa.
Kenyan art tends to be conceptual or political, so I have added some titles on issues that concern the region, such as Germans on the Kenyan Coast by Nina Berman, which elaborates on the influence Europeans have on the economy in the region through tourism, charity and love.
In addition to the drawings of book covers, I have sketched a series of people I believe are inspirational for the Maktaba ya Sanaa. The next step in this project is a crowdfunding campaign in conjunction with an email campaign inviting people to make suggestions for book titles."
Read more about Karin Voogd on her website.
The exhibition can be seen during office hours in the library (ground floor) of the Pieter de la Court building.
Date, time and location
18 September 2017
to
31 October 2017
Posted on 2 October, 2017. Last modified on October 2, 2017