Exhibition at the ASC: Photos of wall paintings in Ethiopian churches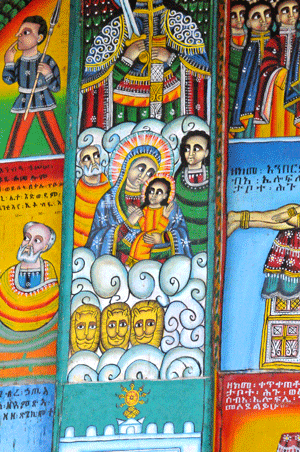 From 1 April onwards the ASC exhibits photos of colourful wall paintings in Northern Ethiopian churches. The paintings represent scenes from the Old and New Testament and scenes of the history of the Ethiopian Orthodox (Christian) Church.
Pieter de Kleer, an amateur photographer, travelled through Northern Ethiopia some years ago and was impressed by the beautiful religious paintings he found in places like Gondar, Lalibela, Aksum and around Lake Tana. On the church walls the archangels Gabriel, Michael and Rafael can be found, as well as (national) saints like Saint George, Tekle Haymanot and others. Most of the paintings are several hundreds years old.
The Orthodox Church in Ethiopia has a 1500 year-old painting tradition. A mixture of manure and bull blood is used to fix the paintings to the walls. In the highlands, where many Christians live, church painters still practice this craft. Although it is traditionally done by men, there are also a few female painters today. In addition to wall paintings, they also create paintings that can be carried around outside, during religious rituals.
Church painters used to have a lot of prestige and were financed by noblemen and the clergy, yet today they can hardly make a living of their ecclesiastical orders. The craftsmen are forced to look for other income sources, like painting handbags for tourists.
Although the walls of Ethiopian churches are often entirely painted, the photos in the exhibition mainly show details in order to give you a better look.
The texts in the Classic liturgical language Ge'ez that you can see on the photos have been translated by Mulugeta Seyoum Gebayaw at Addis Ababa University in Ethiopia together with Dr Azeb Amha, Leiden University and African Studies Centre Leiden. Their cordial cooperation is hereby acknowledged.
The exhibition can be seen in the ASC library (ground floor) and in the corridors at the third floor.
Date, time and location
01 April 2015

to

29 June 2015
Posted on 23 February 2015, last modified on 10 June 2015