The End of Déby
For Sidecar, the blog of New Left Review, ASCL researcher Rahmane Idrissa wrote an article about the death of Chad's president Idriss Déby from a historical perspective. 'What did France gain in tirelessly propping up a dictator against the aspirations of his people? Such interests are at first sight hard to perceive. They are certainly not economic.' Read the full article.
(Photo: Still from a France 24 broadcast of the funeral of Idriss Déby.)
About the author(s) / editor(s)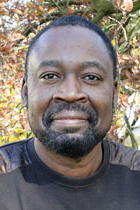 Rahmane Idrissa is a political scientist fast embracing history. His research expertise ranges from issues of states, institutions and democratisation in Africa to Salafi radicalism in the Sahel.
Full text, catalogue, and publisher website
Posted on 30 April 2021, last modified on 8 June 2021