ECAS7 - 7th Conference on African Studies, Basel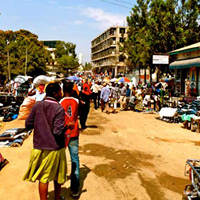 The 7th European Conference on African Studies ECAS 2017 will take place 28 June - 1 July 2017 in Basel. This year's theme: Urban Africa - Urban Africans: New Encounters of the Rural and the Urban. The Centre for African Studies Basel and the Swiss Society for African Studies are organizing the conference, on behalf of the Research Network of African Studies Centre in Europe AEGIS. ASCL senior researcher Prof. Mirjam de Bruijn will give the Carl Schlettwein Lecture Digitalisation and the Field of African Studies on 28 June.
The organising committee is led by Till Foerster, Elisio Macamo and Veit Arlt of the Centre for African Studies Basel.
Take a look at all the panels.
Papers / panels / book launches by ASCL/Leiden University researchers
Please note that some of the panels start in the morning and continue in the afternoon. Only the starting times of the panels are mentioned in this overview.
Wednesday 28 June, 9:00-17:00
ELIAS (Librarians & Archivists). Location: Basel University Library
Wednesday 28 June, 17:00
Collaborative Research Group (CRG) African History Location KH106
Klaas van Walraven (convenor)
Wednesday 28 June, 19:00
Carl Schlettwein Lecture: Mirjam de Bruijn: Digitalisation and the Field of African Studies (location KH033, KN00)
Thursday 29 June, 9:00
Jos Damen & Stephanie Kitchen (IAI London): Why is research from Africa invisible? (D16, PG0VS, P129)
Thursday 29 June, 9:00
Jan-Bart Gewald & Klaas van Walraven: The importance of biography in African historical studies (E18, Location KH212, P149)
Thursday 29 June, 9:00
Carolien Jacobs & Suliman Ibrahim: Urban property disputes in fragile and transitional settings in Africa (M04, location KH117, P204)
Thursday 29 June, 14:00
Ton Dietz: Sustainable Cities in Africa: plans, dreams, and practices (L19, location KH117, P200)
Thursday 29 June, 14:00
Mayke Kaag: Global Village, African City (C59, location NB003, P114)
Thursday 29 June, 14:00
Merel van 't Wout: "We don't need them anymore". Creating belonging and performing work among 'Game-boys' in Tamale, Ghana. Panel The unemployed in Africa: redistribution, time, and the meaning of productivity (Location: KH104, P073)
Thursday 29 June, 18:00
The Gerti Hesseling Prize will be given to Dr. Abdul-Gafaru Abdulai (University of Ghana) who co-authored with Sam Hickey the following article: 2016. 'The Politics of Development under Competitive Clientelism: Insights from Ghana's Education Sector'. African Affairs 115 (458): 44 – 72. Room KH102.
Friday 30 June, 9:00
André Leliveld, Mayke Kaag, Marleen Dekker: Who Owns the City? Political Leverage for Informal Workers in Urban Africa (C30, location NB005, P090). Papers: Tanja Hendriks & Rafael Verbuyst: Fraught with Friction: informal workers and (their) organizations. Miriam Siun: 'Arewa Gari Yawaye': Identity Politics and Marginalization amongst informal workers. Kassim Assouma: Le développement inclusif vécu par les travailleurs de l'économie informelle: une étude de cas des stratégies d'adaptation des commerçants du marché Dantokpa au Bénin.
Friday 30 June, 9:00
Antonio Frank & Akinyinka Akinyoade: The relationship between Angola's national police and non-state security providers in the city of Luanda. Panel Security in the city: Experiences of security pluralism in urban Africa (Location KH106, P033)
Friday 30 June, 9:00
Bert van Pinxteren: Where will the elite go to next? What happens at the level below? Panel Africa and Higher Education – A Transnational Perspective (Location KH115, P006)
Friday 30 June, 12:15
Book Presentation: Wim van Binsbergen: Vicarious Reflections: African explorations in empirically-grounded intercultural philosophy, Papers in Intercultural Philosophy / Transcontinental Comparative Studies (PIP-TraCS) (Location KH116, BL06)
Friday 30 June, 14:00
Jon Abbink: Food cultures in Africa: food production, consumption, and prestige ranking in the age of development (C55, location KH002, P110)
Friday 30 June, 14:00
Adamou Amadou: "Check and Balance" around the natural and infrastructural resources: the case of Mbororonomad refugees in Mandjou village. Panel: Africa and the city. Constrained urbanisation through forced displacement. (Location KH103, P081)
Friday 30 June, 14:00
Mirjam de Bruijn & Abdou Salam Fall (IFAN, Dakar): Innovations in connectivity and social change in Africa: new ways to bridge the urban and rural in historical perspective (P079, location KH208)
Friday 30 June, 16:00
Rijk van Dijk & Astrid Bochow (Göttingen): After the Crisis? Ethnographies of Post-Crisis Situations in Africa (C52, location KH111, P107)
Friday 30 June, 18:00
Book presentation: Klaas van Walraven: Le désir de calme. L'histoire du mouvement Sawaba au Niger. Presses Universitaires de Rennes, Rennes 2017 (location KH117, BL12)
Saturday 1 July, 9:00
Joseph Mangarella: Evolving Public Authorities in an Oil-Bearing Community: Gamba, Département de Ndougou, Gabon, 1958 - 2015. Panel: Conspiracies and conspiracy theory. The politics of the unknown. Location KH112, P048)
Saturday 1 July, 14:00
Ursula Oberst: Increasing and measuring research impact: tools and strategies. Panel Social Sciences Research Institutions in Post-independence Africa as subjects of research (location PG0VS, P115)
Saturday 1 July, 14:00
Catherina Wilson: Fleeing as a non-violent strategy: An engaged student becomes an engaged refugee. Panel: Being a non-violent youth in conflict contexts. (Location: KH107, P 036)
Saturday 1 July, 16:00
Jan-Bart Gewald: Flights of Fancy: Aerodromes, Airfields, and dreams of modernity in early colonial Zambia1914 - 1940. Panel: Power in travel, powering travel. Location KH111, P161)
For all updates, visit the conference website.
The ASCL will have a book stand at the conference.
Convening Institutions
Date, time and location
29 June 2017

to

01 July 2017
University of Basel, Centre for African Studies
Kollegien Haus, Petersplatz 1, 4051 Basel
Posted on 21 November 2016, last modified on 29 June 2017