Dissertation by Janneke Verheijen: Balancing men, morals and money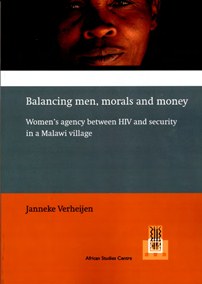 Balancing Men, morals and money
For her dissertation Balancing Men, morals and money: Women's agency between HIV and security in a Malawi village, cultural anthropologist Janneke Verheijen did research in a village in Malawi between August 2008 and July 2009. The widespread assumption that poverty and gender inequality push women to exchange sex for material support is increasingly used to explain the continued spread of HIV throughout sub-Saharan Africa and consequently to inform policy. Based on her field research, Verheijen comes to a different conclusion. While the findings confirm that the sexual and relationship choices of village women put them at increased risk of contracting HIV, the study shows that their choices result from a careful balancing of personal wants and community rules, rather than from acute destitution. Among the factors that impact this 'balancing act' are the strict division of gender roles, the vital importance of conforming to cultural norms, and suspicion towards women's independence.
Raw data
Verheijen and her research assistant took daily notes about their conversations with the women of the village. These notes can be read as part of the dissertation, and will become hyperlinks within the dissertation text within the next few months. Read more info about the publication, which is under embargo until 1 October, here.
PhD Defence
1 October, 12:00, Agnietenkapel, Oudezijds Voorburgwal 229 – 231, Amsterdam
Posted on 26 September 2013, last modified on 1 October 2013