Digital sources for African history & Wikidata: ELIAS 12 in Vienna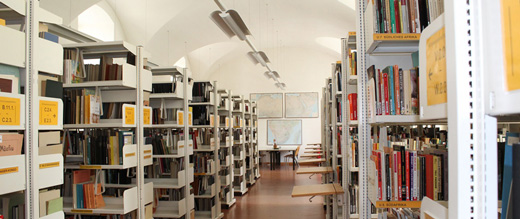 African and Middle Eastern Studies Library, Vienna University Library
Librarians and archivists in African Studies met in Vienna during the 12th Annual Meeting of ELIAS, European Librarians in African Studies, on 1 June. Information specialists from the United Kingdom, France, Sweden, Germany, Austria, the Netherlands and Switzerland got together to exchange news on collections, websites and other new developments in their field. The organisation of the 12th ELIAS meeting was done by Birgit Athumani Hango from the Library of African Studies in Vienna, together with the ELIAS Working Group.
Marion Wallace, Lead Curator of the African Collections at the British Library, gave a stunning virtual tour around Africa collections in Europe. She showed the way to new digital collections useful for researchers on Africa: from the well known Endangered Archives Programme, Europeana & Gallica to more hidden treasures like Archives Portal Europe, Counting Colonial Populations, Nigerian Nostalgia and Oriental Manuscript Resource (Mauritania).
Åsa Lund Moberg, Chief Librarian oft the Nordic Africa Institute (NAI) in Uppsala, covered quite a different subject: she demonstrated how the NAI has included the Sustainable Development Goals into the institute and its Library, and how this changed their view on certain topics.
Ursula Oberst from the ASCL Library showed how the Africa Thesaurus of the ASC Leiden was integrated into Wikidata, and how Leiden (and the world) could profit from this entangled knowledge. After that, Claudia Wirthlin from Mission 21, Basel, elaborated on how Africa libraries and Agenda 2030 could be connected. Alice Spinnler from Basel University Library showed the development of the Africa Portal in Basel, and how Basel was able to integrate data from other libraries (e.g. from Leiden on Namibia) into their portal. Spinnler also talked about cooperation with Namibian partners.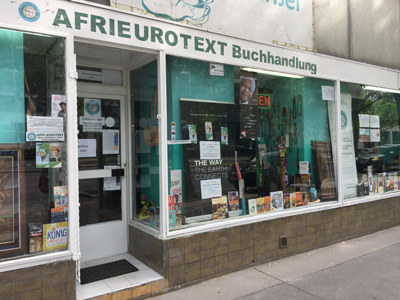 After these presentations the day was concluded with a tour around the Bibliothek Afrikawissenschaften und Orientalistik in Vienna and a perfect dinner at the Fuhrgassl-Huber Restaurant, with a splendid view on the Austrian mountains – and with food for thought. Next year ELIAS 13 will be held in Edinburgh, 11 June 2019.
The specialized Africa bookshop in Vienna, at Lassallestrasse 20.
Jos Damen
Posted on 5 July, 2018. Last modified on September 20, 2018