DigiDogon book launch in Mali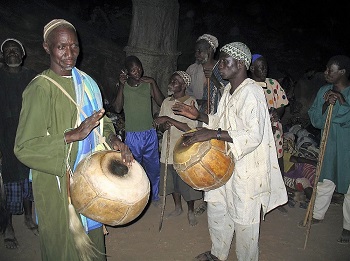 On Saturday 20 February 2021 a book launch in Mali celebrated the first major result of the project DigiDogon. At the National Museum in Bamako, the volume Chanter le Baja Ni: Abirè le Voyant Dogon by Walter van Beek, Atimè Saye and Oumarou Ongoiba, was presented to the authorities in a ceremony for official dignitaries and interested Dogon. Andogoly Guindo, general secretary of the Ministry of Culture, and Amadou Guindo, one of the research assistants in the project, co-hosted the proceedings that included o.a. an introduction to the cultural heritage that is called Baja Ni, a presentation of the project, and the performance of a sample of the songs in question. The European partners – the African Studies Centre Leiden, the University College London and the University of Turin – participated in the persons of Van Beek, Michael Rowlands and Roberto Beneduce, who were present by Zoom. The event attracted large media interest, with the national television broadcasting a long excerpt in the evening of that Saturday. Of the three authors, the two Malians could attend and they engaged in a lively discussion. Highlighting the richness of the Dogon performative heritage, a singing group regaled the audience with a medley of songs taken from other ceremonial performances in Dogon culture.
The project DigiDogon is part of the Joint Program Initiative on Cultural Heritage. Branching out from the baja ni, a song cycle at the core of funeral proceedings, the project aims at researching, recording and digitalising performances belonging to the Dogon cultural heritage in general. This first project volume zooms in on one rendition of these songs, as well on its author, a 19th century singer-cum-prophet called Abirè. Within the large corpus of Dogon publications, this study is the first on this topic. Not only is this volume the result of long fieldwork, but also of a dynamic cooperation with the cultural association Ginna Dogon, since for the Dogon this Abirè legacy forms a crucial part of their cultural heritage.
Posted on 9 April 2021, last modified on 9 April 2021