Digging Deeper: Inside Africa's Agricultural, Food and Nutrition Dynamics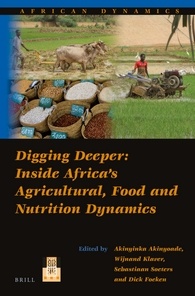 This volume attempts to dig deeper into what is currently happening in Africa's agricultural and rural sector. It seeks to convince policymakers and others that it is important to look at the current African rural dynamics in ways that connect metropolitan demands for food with value chain improvements and agro-food cluster innovations. It is essential to go beyond a 'development bureaucracy' and a state-based approach to rural transformation, such as the one that often dominates policy debate in African government circles, organizations like the African Union and the UN, and donor agencies.
This book has been published in the African Dynamics Series, Volume 13, Brill Publishers. African Dynamics is an annual publication of the Africa Studies Centre, Leiden. Each year, a different theme is discussed from various perspectives by scholars from all over the world. Editors of this year's volume: Akinyinka Akinyoade, Wijnand Klaver, Dick Foeken (all ASC Leiden) and Sebastiaan Soeters (University of Utrecht, formerly ASC Leiden). Contributing authors from the ASC: Ton Dietz, André Leliveld and Marcel Rutten.
Author(s) / editor(s)
Akinyoade, Klaver, Soeters and Foeken (eds.)
About the author(s) / editor(s)
Akinyinka Akinyoade, PhD (2007), Institute of Social Studies, The Hague, is a senior researcher at the African Studies Centre, Leiden and he is the convenor of its Food security and the African city: clustering metropolitan food chains collaborative research group. He has published journal articles and research reports on food security in Africa.
Wijnand Klaver, (MSc (1976) Wageningen University, is a senior researcher at the African Studies Centre, Leiden. He has published work on the indicators of undernutrition among preschool children and of national food availability for several countries in Africa.
Sebastiaan Soeters, PhD (2012), Leiden University, is a post-doctoral researcher at Utrecht University. His current research focuses on the social effects of climate change amongst rural communities in northern Ghana, Burkina Faso and Kenya. His earlier research focussed on urbanisation and food security in Africa.
Dick Foeken, PhD (1991), University of Amsterdam, is a senior researcher at the African Studies Centre, Leiden. He published numerous books and articles on livelihood issues, mainly in Kenya.
Posted on 14 November 2014, last modified on 6 February 2015