Debate programme: 'Debating the Future of African Youth in Europe and Africa'
The debate was a great success! Here you can see a film of the last day: the final debate!
IDEA and the African Studies Centre present to you:
Because of the great interest for the debate project 'The future of African youth in Europe and Africa' we have decided to extend the registration deadline.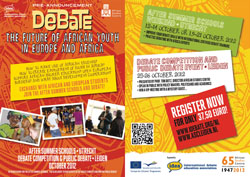 This means:
Participants for the first weekend, 12-14 October, can register until Monday October 8, 12.00h. Participants for the second weekend from 19-21 October can register until
Monday 15 October, 12.00h.
This batch of participants will be asked to arrange their accommodation themselves. IDEA can no longer mediate. The group is staying at Strowis Hostel, call 030-2380280 or e-mail info@strowis.nl. After registration and upon the payment of the fees of 37,50 Euro for the weekend, the participants do not have to pay for their overnight stay. Strowis has been informed about this. After registration, participants will receive more information about the project.
In the debate training, given by internationally certified trainers, you acquire debate and advocacy skills, which you can apply in your professional life. The practice methodology will give you debate experience, which strengthens you to lobby and put the debate around this theme on the agenda in your organization or study.
If you want to participate, please fill in the registration form for the After Summer Schools. For more information, contact Roos Keja (rkeja@idebate.nl or +31-(0)20 6927299) or Gitty Petit (asc@ascleiden.nl).
We hope to welcome you for the debate training, the competition and the public final debate!
After Summer Schools, 12-14 October or 19-21 October 2012, Strowis hostel, Utrecht
The After Summer Schools start with an expert lecture on Friday evening, followed by a full day of debate training with interactive workshops in which you develop your debating and public speaking skills, and end with a debate with an academic and a policy maker on Sunday afternoon.
Debate Competition and public debate event, 25-26 October 2012, Faculty of Social and Behavioural Sciences, Pieter de la Court Building, Leiden
The Debate Competition follows the British Parliament Format and is open to the participants of the After Summer Schools and other interested people. The 6 winning teams will be asked to write their public speech about a selected theme, and present their speech during the Public Debate Event in the afternoon on 26 October.
The Public Debate Event is presented by Prof. Ton Dietz (director of the African Studies Centre). The public speeches lead to debates with a panel of prominent policy makers, politicians and academics and the wider public.
** For questions, please contact us at rkeja@idebate.nl or asc@ascleiden.nl. By registering for the After Summer School, you also agree to participate in the Debate Competition and the Public Debate Event.**
Date, time and location
25 October 2012

to

26 October 2012
Posted on 17 July 2012, last modified on 2 January 2013