Deadline submission Africa Thesis Award 2015. The best Masters thesis wins € 500!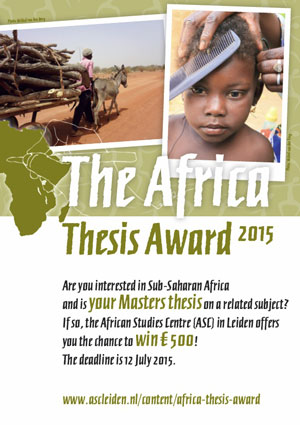 Submission of Master's theses for the Africa Thesis Award 2015 is now open! Please submit your manuscripts before Sunday 12 July 24:00 to Trudi Blomsma, asc@ascleiden.nl. We are offering you the chance to win € 500. What's more, the winning thesis will be published in the ASC's African Studies Collection.
Any final-year student who has completed his/her Masters thesis with distinction (80% or higher or a Dutch rating of at least an 8) at a university in Africa or the Netherlands may apply.
The thesis must be based on independent empirical research related to Sub-Saharan Africa and must have been examined in the twelve months prior to the deadline of 12 July 2015. Find out how to apply on our website or read the flyer.
Posted on 23 March 2015, last modified on 11 May 2015