Country Meeting: Ethiopia
Primary tabs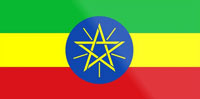 Country meeting with focus on Ethiopia's current political and economic climate.
Confirmed speakers:
Jan Abbink (ASCL)
Azeb Amha (ASCL)
Ayelech Tiruwha Melese (University of Roskilde, Denmark)
Henk van den Heuvel (VU University Amsterdam)
The lectures will be followed by a round table discussion, moderated by Abiy Ashenafi.
Panel members:
Mr. Zelalem Birhan (Ethiopian Embassy, The Hague), t.b.c.
Mr. Habtom Yohannes (journalist & media consultant)
Mr. Anania Sori (Ethiopian journalist)
Mr. Yinebeb Nigatu (PhD candidate, Leiden University)
More detailed information can be found in the programme.
Date, time and location
Pieter de la Courtgebouw / Faculty of Social Sciences, Wassenaarseweg 52, 2333 AK Leiden
Posted on 21 November, 2018. Last modified on December 14, 2018