Contes nouveaux Kapsiki (Cameroun)
English translation below.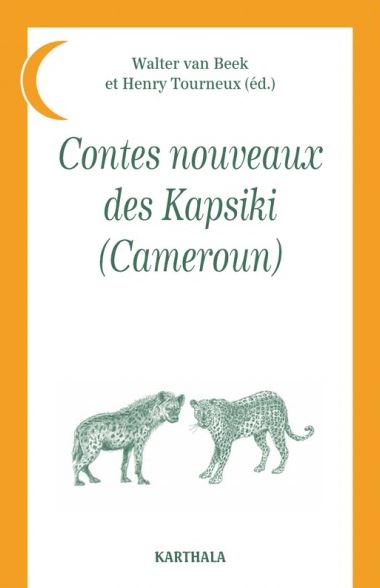 Le présent volume de contes kapsiki a été recueilli à Mogodé trente-six ans après le précédent (Contes kapsiki du Cameroun). Nous avons voulu voir comment le genre avait évolué et s'était transformé en deux générations. La vie, par bien des côtés, s'est améliorée localement: la mortalité infantile a sérieusement diminué. La scolarisation a progressé dans tous les villages. Mogodé est devenu sous-préfecture et un lycée y est en construction. Le premier fait remarquable, dans les contes, est que le personnage d'Écureuil demeure le grand décepteur autour duquel tournent les meilleures histoires; son monde est toujours un heureux mélange de bien et de mal, d'entente et de mensonge, d'amusement et de violence. On relève de nouveaux thèmes, comme celui du frère qui sauve ses aînés après avoir été rejeté par eux, sur le modèle de l'histoire de Joseph trahi par ses frères. Autre fait important: naguère, l'antagoniste d'Écureuil était Panthère, mais maintenant c'est devenu Hyène. Désormais, Éléphant a presque disparu, comme Scorpion et Porc-Épic, mais Tortue est devenu plus populaire.Il y a toujours quelques contes étiologiques qui expliquent l'origine d'un phénomène naturel. Par exemple: 'Pourquoi Poule ne vole pas', et 'Les cynocéphales et leur queue' où l'on apprend dans quelles circonstances ces singes se sont dotés d'un appendice caudal.
English abstract
The present volume of kapsiki tales was collected in Mogodé thirty-six years after the previous one (Contes kapsiki du Cameroun). We wanted to see how the genre had evolved and transformed over two generations. Life, in many ways, has improved locally: infant mortality has seriously declined. Schooling has progressed in all the villages. Mogodé has become a sub-prefecture and a high school is being built there. The first remarkable fact in the tales, is that the character of Squirrel remains the great deceiver around which the best stories revolve; his world is always a happy mixture of good and evil, understanding and lies, fun and violence. There are new themes, such as that of the brother who saves his elders after being rejected by them, on the model of the story of Joseph betrayed by his brothers. Another important fact: formerly, the antagonist of Squirrel was Panther, but now it has become Hyena. Unfortunately, Elephant is almost extinct now, like Scorpion and Porcupine, but Turtle has become more popular. There are still some etiological tales that explain the origin of a natural phenomenon. For example: 'Why Hen does not fly', and 'The cynocephali and their tails' where we learn under what circumstances these monkeys have a caudal appendage.
Author(s) / editor(s)
Walter van Beek and Henry Tourneux (ed.)
About the author(s) / editor(s)
Walter van Beek is a retired research fellow at the ASCL. North Cameroon has been a place of study since1972. The ethnography of the Mandara Mountains, in particular the Kapsiki/Higi, forms a permanent element in his work.
Henry Tourneux is a linguist, specialised in African languages.
Full text, catalogue, and publisher website
Posted on 2 November 2020, last modified on 4 November 2020