Consuming democracy. Local agencies & liberal peace in the Democratic Republic of Congo
This thesis focuses on liberal peace building in the DRC. The thesis takes a critical approach which emphasises local agencies and their engagements with liberal peace building. However, it seeks to bring this critique back to the institutions with which liberal peace building is preoccupied, by focusing on the hidden local that operates within these institutions. This approach seeks to give new meaning to processes of institution building without rendering institutions irrelevant as a top-down approach.
Focusing on the first legislature of the Congolese Third Republic (2006-2011), the thesis provides a case study of how local agencies consume liberal democracy within the National Assembly, and make it their own. It discusses current liberal peace building practices as a process of mutual disengagement, in which both the local and liberal intervention seek to disengage from each other. Although this results in a lack of legitimacy of the peace building project both locally as well as with liberal interventions, it also creates hybrid space in which localagencies consume liberal democracy.
The thesis conceptualises these local agencies as being convivial, in other words, they are enabled by people's relations. The thesis therefore focuses on MPs relations with their electorate, as well as with the executive and other MPs in their party or ruling coalition. Through these interactions local agencies consume liberal democracy - it is accepted, rejected, diverted, substituted, etc. The thesis concludes that through these practices of consumption, local agencies negotiate liberal democracy. The liberal democratic framework is kept intact, but it is not enabled to function as foreseen, because local agencies are responsive to a moral matrix of the father-family. However, the liberal democratic framework itself provides new tools through which local agencies also renegotiate the unwritten rules of the moral matrix of the father-family.
This book has been published as volume 57 of the African Studies Collection.
Read the book here.
About the author(s) / editor(s)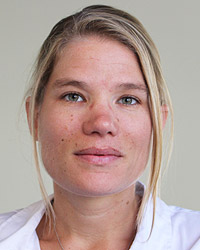 Meike de Goede (1979) holds a PhD in International Relations/Peace Studies (University of St Andrews). She has lived in the Democratic Republic of Congo where she has worked in the development sector on political transition, democratisation and elections. She has conducted research on Congolese history, democratisation, state building, security sector reform and the private security sector. Since 2013 she is lecturer at Leiden University where she teaches courses in African history, anthropology and politics. Her current research focuses on local perspectives on peace building and democratisation in the Democratic Republic of Congo, taking a particular historic perspective.
Posted on 16 January 2015, last modified on 26 January 2015