Closure of the anthropology department in Chad: a loss for science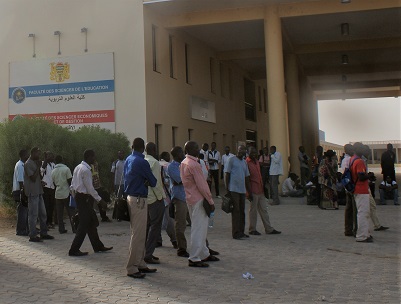 En français: lire ci-dessous.
The Anthropology department of the University of N'Djamena in Chad, that created the Anthropology Master of Development in 2014, has had to close its doors after a decision by the Rector. No reason was given to explain this measurement.
In the four years of its existence, this young department has shown remarkable results. A small team of professors has implemented an interesting programme that has taught young students to have a view on development and that has provided them with the necessary tools to do research. This has made them young professionals who are increasingly in demand by companies and NGOs with a social purpose.
Moreover, an online journal was founded by the department with the support of a Professor of the University of Aix en Provence, in order to publish texts and research on Chad. It's the first and only platform in this field.
The department has managed to attract French and Dutch professors to supervise its students. It is clear that this international collaboration has contributed to the development of research in Chad. Also several symposia have been organized that have brought together various African and European countries.
With this statement we would like to support our colleagues in Chad in their attempts to understand the situation and to renegotiate the recent decision.
African Studies Centre Leiden, March 2018
Fermeture du département d'anthropologie au Tchad: une perte pour la science
Le département d'Anthropologie à l'Université de N'Djaména au Tchad, qui a créé depuis 2014 le Master d'Anthropologie du développement, doit fermer ses portes après une décision du Recteur. Aucune raison n'a été avancée pour expliquer cette mesure.
Au cours de ces 4 années d'existence, ce jeune département a produit des résultats remarquables. Une petite équipe de professeurs a mis en place un programme intéressant qui enseigne aux jeunes étudiants à avoir un regard sur le développement et donne des outils nécessaires à la recherche qui font d'eux des jeunes professionels sollicitées par beaucoup d'entreprises et ONGs à un but social.
En plus de cela, un journal en ligne a été fondé par le département, avec l'appui d'un professeur de l'université d'Aix en Provence, et qui a pour but de publier les textes et recherches sur le Tchad. C'est la toute première et seule plateforme dans le domaine.
Le département a pu attirer des professeurs français et hollandais qui ont accepté d'accompagner quelques étudiants en tant que superviseurs. Il est à noter que cette collaboration internationale contribue au développement de la science au Tchad. Cela se traduit par l'organisation des colloques regroupant différents pays africains et européens.
Avec cette publication nous voulons supporter nos collègues au Tchad dans leur quête de comprendre la situation, et de renégocier la décision prise.
Centre d'Études africaines Leiden, mars 2018
Posted on 6 March, 2018. Last modified on March 16, 2018