Chibuike Uche: new senior researcher at the ASC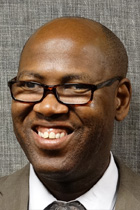 Nigerian scholar Chibuike Uche started as a senior researcher at the African Studies Centre as of 1 January 2014. Prior to joining the ASC, he was Professor of Banking and Financial Institutions at the University of Nigeria and a member of the Monetary Policy Committee of the Central Bank of Nigeria. Chibuike has a PhD in accounting and finance from the London School of Economics. He was awarded the International Economic History Association's prize for the best doctoral thesis completed between 1997 and 2000 on the post-1918 period. He trained as a chartered accountant with Coopers and Lybrand (now PricewaterhouseCoopers) in Nigeria before moving into academic research.
Foreign businesses in Africa
His current focus is on the political economy of foreign business operations in Africa. 'My research interests lie in the operating environment for foreign businesses in West Africa and, increasingly, East Africa. To what extent are local businesses active in supply chains? Is local manpower being trained and used? How do foreign businesses build trust, and what role are governments playing in promoting local partners? We saw the indigenization of businesses in several African countries in the 1970s after various countries gained independence. The policy was then to enhance the participation of local people in the management of businesses after the colonial era when their economies were controlled by foreigners. What have the effects of this policy been? In what ways can foreign enterprises be beneficial for both countries today?' These are some of the issues that Chibuike will be researching at the ASC.
Posted on 10 January 2014, last modified on 9 September 2016