Chibuike Uche about uprising in Nigeria and power struggle between north and south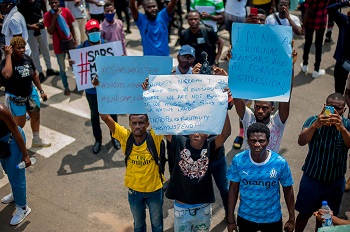 Chibuike Uche was interviewed by daily Trouw about the uprising in Nigeria. 'This isn't about Sars or the police anymore. The protest is about the endemic corruption within the public administration, the government and politics', he says. And on a deeper level: 'This is also about the struggle between North and South Nigeria. Between the Islamic North and the Christian South. [...] The current president, Muhammadu Buhari (77) is from the North. Ninety percent of all important positions in government, public administration, police and army are now occupied by Muslims from the north.' Prof. Uche fears for the unity of Nigeria.
Read the full article (in Dutch).
Read more about Nigeria's religious divide in Chibuike Uche's latest blog Nigeria's colonial heritage, religious divide and the 2020 US presidential elections.
Photo by Kaizenify - Own work, CC BY-SA 4.0
Posted on 22 October 2020, last modified on 6 November 2020