'Ceux qui combattent beaucoup sans peur, qui tuent sans pitié': effets du recrutement d'enfants de moins de 15 ans par les Anti-Balaka (2013-2014)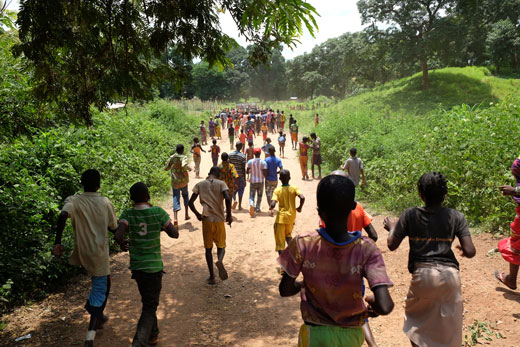 Ce rapport fait une analyse des informations sur la manière dont les jeunes de moins de 15 ans, recrutés en RCA par les Anti-Balaka entre 2013 et fin 2014, ont été affectés par cette expérience. Les données utilisées dans ce rapport ont été obtenues entre 2016 et 2019 et font partie d'une étude anthropologique plus vaste sur les expériences des enfants et jeunes en RCA pendant les conflits récurrents. L'étude est basée sur des méthodes anthropologique et historique à travers les 'récits de vie' qui ont permis de comprendre les différents parcours étudiés en profondeur.
Ce rapport met l'accent, dans un premier temps, sur la méthodologie de recherche et, dans un deuxième temps, sur l'émergence des Anti-balaka. Il tente également de mettre en relief leurs modes de recrutement des enfants de moins de 15 ans. En effet, il montre que les Anti-Balaka ont recruté ce groupe d'enfants de trois manières : par la force, par l'obligation, mais aussi par l'acceptation de l'implication personnelle de ces derniers. Les enfants ainsi recrutés ont servi à diverses fins : cuisiniers, surveillants, besoins sexuels, gardes du corps, combattants, etc. Ces expériences les ont affectés de plusieurs manières. Alors que certains n'ont pas survécu aux combats, d'autres, qui ont réussi à survivre, ont été affectés de diverses manières: traumatismes, perte de scolarité, stigmatisation, etc. Même s'ils arrivent à se battre au quotidien, rien n'est sûr quant à leur avenir, d'autant plus que les réseaux des chefs Anti-balaka semblent être toujours active. Ce qui les expose à un risque de remobilisation.
This is ASCL Working Paper 149.
Photo credit: UNICEF Netherlands.
Author(s) / editor(s)
Marius Crépin Mouguia, Jonna Both and Mirjam de Bruijn
About the author(s) / editor(s)
Marius Crépin Mouguia is a PhD student in Anthropology at Leiden University and the University of Bangui, Central African Republic.
Dr Jonna Both is an anthropologist with research experience in Uganda, Chad and the Central African Republic, focusing on youth, generations, conflict, trauma, migration, history, NGOs, humanitarian aid.
Mirjam de Bruijn is Professor in African Studies at Leiden University.
Full text, catalogue, and publisher website
Posted on 9 October 2020, last modified on 12 October 2020