CANCELLED: ASCL Seminar Series: Islamist militancy in the Sahel: Critical reflections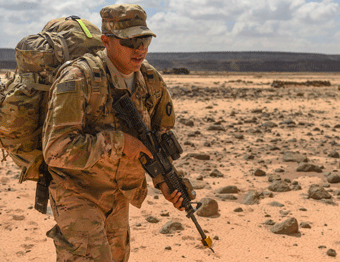 THIS SEMINAR HAS BEEN CANCELLED! Due to personal circumstances Prof. Hussein Solomon will not be able to come to Leiden to give his seminar. The Africa Journalists Meeting that was to precede the seminar will be postponed to 1 May and will precede the seminar South African Elections Approach, by Barry Gilder.
We apologize for any inconvenience and will try to reach all those who have registered for the 11 April Seminar and the Journalist Meeting.
Far from constituting the latest front in the machinations of Global Jihad, Inc. the intensification of Islamist militancy in the Sahel must be viewed as the result of local conditions where radical Islam has become a vehicle of mobilization for aggrieved populations. Utilizing insights from Critical Terrorism Studies, this seminar examines Islamist militancy through the lens of state failure, competing ethnic identities, climate change, economic variables exacerbated by globalization, and failed counter-terrorism policies.
Draconian repression on the part of state elites, for instance in Mauritania, where democracy activists are labelled as extremists, has incensed public opinion. The fact that Nouakchott received military and financial support from Paris and Washington has only served to swell the ranks of Al Qaeda in the Islamic Maghreb. Strongly discriminatory policies directed at Tuaregs in Niger and the use of Songhai militias in northern Mali have also resulted in their alienation and recruitment into the ranks of the jihadists. Climate change coupled within desertification and rising food insecurity has facilitated youth recruitment into extremist organizations. Across the Sahel, the youthful demographic profile coupled with rising youth unemployment has made them uniquely vulnerable to radicalization. The economic context with its huge divides between faith and ethnic groups also bodes ill for future prospects, compounded by a legacy of jihad across the region. All this suggests that a more sophisticated approach is needed than mere military force to stem the tide of Islamist militancy in the region.
Chair: Prof. Jan Abbink, ASCL
Dr. Hussein Solomon is Senior Professor in the Department of Political Science, University of the Free State. Among his many previous appointments he was Executive Director of the International Institute of Islamic Studies (2009-2010) and Professor and Director of the Centre for International Political Studies, University of Pretoria (2000-2010). He is a member of the South African Academy of Science and Art. His research interests include conflict and conflict resolution in Africa; South African foreign policy; international relations theory; religious fundamentalism and population movements within the developing world.
His most recent book is African Security in the Twenty-First Century: Challenges and Opportunities (with Stephen Emerson, Manchester University Press, 2018).
Date, time and location
Pieter de la Courtgebouw / Faculty of Social Sciences, Wassenaarseweg 52, 2333 AK Leiden
Posted on 10 December 2018, last modified on 11 April 2019