Brewing Tensions: The Colonial Gaze of the German–Namibian Publishing Industry
The call to decolonise African Studies has a profound influence on the field, with varying degrees of success. This article by Tycho van der Hoog addresses this topic in relation to his personal experiences in the publishing industry in Namibia. By describing the attempt to publish a historical book about Namibian beer with a well-known German–Namibian publishing house, the lingering power of German–Namibian settler colonialism becomes clear. This article renders visible the power structures within the Namibian book market that perpetuates a whitewashed version of Namibian history and argues that decolonising knowledge cannot succeed without paying attention to the (private) publishing industry.
This article appeared in Africa Spectrum, SAGE Journals, German Institute for Global and Area Studies (2022).
About the author(s) / editor(s)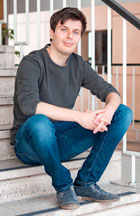 Tycho van der Hoog is a PhD candidate at the African Studies Centre Leiden. His PhD project, tentatively titled 'Blood, Bullets, and Bronze: The Relations Between North Korean and Southern Africa, 1960-2020' seeks to reveal the ties that bind North Korea to the African continent. His monograph Monuments of Power: The North Korean Origin of Nationalist Monuments in Namibia and Zimbabwe was published by the African Studies Centre Leiden in 2019.
Full text, catalogue, and publisher website
Posted on 27 June 2022, last modified on 27 June 2022