BiBi: Artist from Nigeria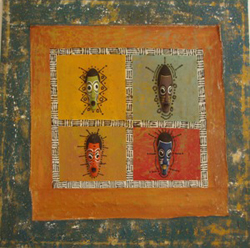 Bibi, an energetic Nigerian artist, was born in Lagos as Bridget Oronya in 1986. Bibi and her sisters showed their creative abilities as children by drawing and creating people out of paper and using cigarette wrappers to design clothes for them. They used to create whole families and scenes depicting those people's daily lives and how they took care of each other. These are themes that often return in Bibi's work today. Due to the political situation in Nigeria in the early 1990s, Bibi and her sisters were sent to Ivory Coast in 1993 for six months and the young girls' journey back to Nigeria still inspires Bibi in her work.
Bibi combines different styles. She works with oil and glue on canvas, with ink and, in fact, with any material that fits her creative style of the moment. Her work is difficult to describe in just a few words: it varies from traditional to modern African, from semi-abstract to abstract or symbolic, from rough to extremely elegant. But all of it is very colourful in a relaxing way. It is art with a feminine touch! Enjoy…
See also: www.paintingbibi.org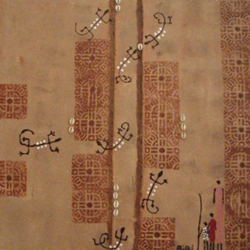 The paintings are on display in the corridors and the library of the African Studies Centre in the Pieter de la Court building, Wassenaarseweg 52, Leiden. They are for sale, with prices ranging from €100 to €650. The exhibition is open weekdays from 9:00–17:00 until 24 December 2009. Feel free to come and take a look.

Date, time and location
01 October 2009

to

24 December 2009
Posted on 13 June 2012, last modified on 13 June 2012