Between two worlds: A biography of Honorable chief Nana Obimpe of Ghana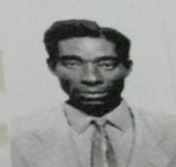 Nana, taken when he was a parliamentarian in 1969 (Picture reproduced with permission from Mbimadong family)
Nana Obimpe of Ghana played an important role at the local, national and global level. Throughout his adult life he continued to fight for the recognition of the former German territory of Togoland. That certainly brought him into conflict with both the British and Kwame Nkrumah. At the local level, he fought for the liberation of Nawuris and laid the foundation for the creation of a separate district for Kpandai.
Linking him to Nelson Mandela of South Africa, shows that Nana's achievement went beyond his local confines. At the national level, he served in the Ghanaian parliament in the Second Republic and was crucial to the functioning of the sugar factories of Asutsuare and Komenda. Educationally, he taught in a number of schools and turned out a number of scholars who occupy important positions in society today. Four students of Nana became chiefs in their respective areas.
Nana's last days were characterised by peace. On several occasions he ensured that peace was made between Nawuris and Gonjas. Each year he would send a delegation to the Gonja paramount chief in Kpembe and the Yagbonwura in Damongo during Damba festival to celebrate. Festivals helped in renewing political bonds between Nawuris and Gonjas and also helped in developing interactions between families since in the area there were intermarriages between Gonjas and Nawuris. He continued this cycle of reconciliation until his death in 2013. Nana is remembered as a man who went beyond the call of duty.
This paper has been published as volume 132 of the African Studies Centre Working Papers.
About the author(s) / editor(s)
Samuel Ntewusu holds a PhD in History from the Leiden University. Since August 2011 he has worked as Research Fellow at the Institute of African Studies, University of Ghana. He is also the co-coordinator of the research programme Society and Change in Northern Ghana: Dagomba, Gonja, and the Regional Perspective on Ghanaian History. In this programme, the ASCL collaborates with the University of Ghana at Legon and the University for Development Studies in Tamale and Wa, Ghana, as well as the University of Groningen, in the development of new research and capacity building in the field of regional history.
Posted on 28 June 2016, last modified on 11 July 2016