Azeb Amha visiting fellow at IASH, University of Edinburgh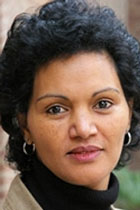 Azeb Amha will be a visiting fellow at the Institute for Advanced Studies in the Humanities (IASH) at the University of Edinburgh during June and July 2022. Dr Amha was a grantee of IASH's 2021 European Fellow Programme, but due to COVID-restrictions, she could first only take up the fellowship from distance, joining Fellows' activities online (1 March-30 July 2021). As a sequel to that fellowship, she will work at IASH in the coming two months on her research on the language-culture nexus in the Omotic language family of Ethiopia, with focus on expressions of spatial relations and directions. She will participate in the weekly seminars of IASH and other scholarly activities this vibrant centre organises for the numerouls fellows it is currently hosting.
Dr Amha is a linguist with interest in the morphology and syntax of Afroasiatic languages, linguistic typology and in the interdisciplinary fields of anthropological linguistics and sociolinguistics.
Posted on 13 June 2022, last modified on 5 July 2022