ASC library's Heleen Smits gives lecture at the University of Khartoum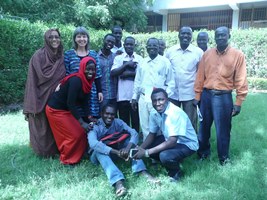 At the invitation of the Department of Linguistics of the University of Khartoum (Sudan), Information Specialist Heleen Smits of the ASC Library gave a lecture at the Faculty of Arts of this university. The subject of her lecture, the use of nouns and pronouns in the Lumun language, a Kordofanian language of the Nuba Mountains, was in line with the research Heleen conducts on the grammar of Lumun, which is her PhD subject at the Leiden University Centre for Linguistics. Heleen is writing her PhD thesis in addition to her work at the ASC Library.
Her presentation on 17 May was attended by advanced students of linguistics, members of university staff as well as members of the Lumun community and other Nuba communities residing in the Khartoum area. The last part of the presentation was an explanation of the ASC's Visiting Fellowship Programme and promoting the ASC's digital library and information services.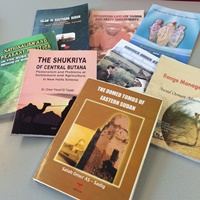 In the Khartoum University bookshop, Heleen purchased some 25 books for the ASC Library, texts which are otherwise difficult to come by. An issue of the Sudan Journal of Economic and Social Studies was kindly donated by the Dean of the Faculty of Economic and Social Studies. Furthermore, Heleen spent the remainder of her 10-day visit in Khartoum and Omdurman discussing linguistic matters with Lumun consultants, which included recordings of Lumun speech.
Posted on 8 June 2015, last modified on 23 May 2018