ASC Infosheet: Post-conflict land governance reform in the African Great Lakes region. Part III – Securing tenure of smallholder peasants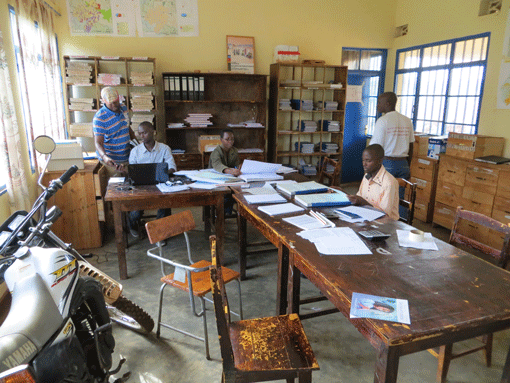 Land certification office in Ngozi, Burundi
In post-conflict settings, securing tenure of local smallholders is considered of major importance to reduce and prevent local land disputes, to contribute to the recovery of rural livelihoods, and to improve agricultural production. Registration and other ways of formalizing land ownership are generally believed to significantly enhance local tenure security and rural development. Our research in Uganda, Burundi and South Sudan suggests, however, that post-conflict settings pose particular challenges to the formalization of land ownership, which may, for instance, ignite conflict and competition, or add to confusion about local ownership and tenure security.
A particular challenge is how to improve the land tenure security of women, who experience specific vulnerabilities in accessing land, notably in post-conflict settings. Both customary and statutory tenure arrangements pose opportunities as well as threats to securing women's access to land. Read the full text.
This is Infosheet no 32.
About the author(s) / editor(s)
The authors of this series of infosheets on the Grounding Land Governance project are: Mathijs van Leeuwen, Doreen Kobusingye, Peter Hakim Justin, Rosine Djomo and Han van Dijk. The project coordinator is Mathijs van Leeuwen. Contact him at m.vanleeuwen@fm.ru.nl
Posted on 1 June 2016, last modified on 3 June 2016