Afscheidsrede professor Wouter van Beek aan Tilburg University: 'Zwarte Piet in Afrika: Rite en Ruzie'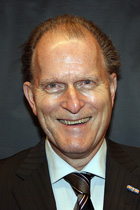 ASC senior-onderzoeker prof. Wouter van Beek, hoogleraar Antropologie van de Religie aan Tilburg University, zal op 20 november zijn afscheidsrede houden: 'Zwarte Piet in Afrika: Rite en Ruzie' U bent van harte welkom! Please note this lecture will be held in Dutch.
Korte samenvatting
Ruzie maken mensen over veel zaken, maar de vreemdste arena is wellicht die van het ritueel. In deze afscheidsrede vergelijkt Wouter van Beek drie rituele conflicten, één in Namibië, één in Mali en - vrij onvermijdelijk aan het einde van het jaar - in Nederland over Zwarte Piet. Daarbij gaat het niet om wie er gelijk of ongelijk zou hebben, maar om het effect van het conflict zelf. Wat betekent een rite-conflict voor het feest zelf, voor de onderlinge verhoudingen en hoe valt een dergelijk conflict op te lossen?
Date, time and location
Cobbenhagen building, Auditorium (access via Koopmans building)
Posted on 30 October 2015, last modified on 4 December 2015