Afrikadag 2016 KIT Amsterdam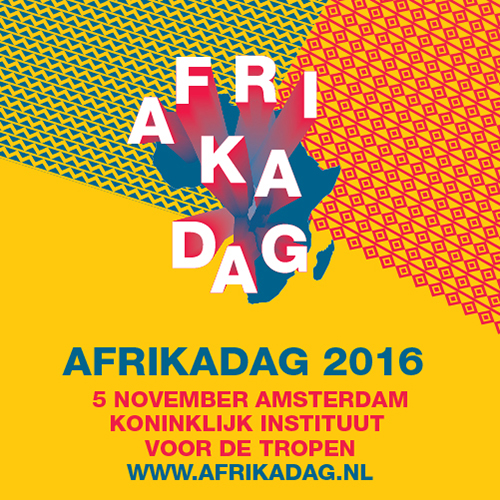 The Africaday 2016 is the event on Africa and international cooperation. Keynote speaker is the successful and inspiring entrepreneur Ashish J. Thakkar. Other guests include: Diederik Samsom, Amma Asante, Lola Sánchez, Badi, Alphonse Muambi, Vamba Sherif, Babah Tarawally, and many others! There is also an exciting cultural programme with a special edition of the iAfrica Festival by Yangambi: art, literature, live music by Thaïs Diarra and Badi, and a screening of the Ethiopian film "Lamb". Finish the day in style with already the fifth edition of "Africa at Night" at Desmet Studios, with among others the Ghanaian reggae singer / songwriterBlack Prophet and DJ's Marcio Gomes en AJ Da Costa.
Buy your tickets now at www.afrikadag.nl/english/index
The ASCL is also involved: with a book stand, as usual, and a workshop entitled 'What do you see? A glimpse into everyday life of youth with a disability'. This workshop will be presented by Willem Elbers (African Studies Centre Leiden), Anneke Donker (Liliane Foundation) and Emma Frobisher (Internatonal Institute of Social Studies). The Liliane Foundation and the African Studies Centre Leiden are collaborating on a learning trajectory about lobby and advocacy for disability rights. A recent study in Sierra Leone, which used the Photo Voice method to engage youngsters as active participants, has resulted in impressive images of their lives. The interactive workshop aims to open the eyes of the general public to the life of girls and boys with a disability. The workshop takes place from 13.30-14.30.
Date, time and location
Koninklijk Instituut voor de Tropen (Royal Tropical Institute), Mauritskade 63, 1092 AD Amsterdam
Posted on 5 October 2016, last modified on 19 October 2016