Afrikadag Amsterdam: Workshop Inclusiveness for Women revisited (INCLUDE)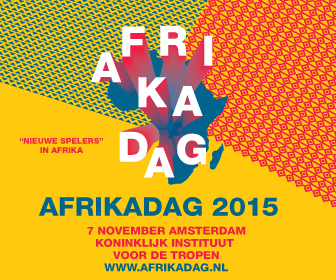 At the Afrikadag Foundation Max van der Stoel, the African Studies Centre will be present with an ASC book stand at the information market and a workshop on the project INCLUDE.
Workshop Inclusiveness for Women revisited
(11.15-12.30, Raadzaal)
While most African countries have seen high growth rates in the last decade, many of its citizens remain excluded from the benefits of this progress. In response, there has been a push for more 'inclusive growth' with policies to ensure that especially young people and women also benefit from growth. Drawing upon insights and examples from policies for Women's Entrepreneurship Development and Social Protection in Africa, the panel explores what 'doing inclusive development' with women at the forefront means in practice. What strategies do and do not work for women to also participate and benefit from growth? How is gender equality being positioned and operationalised within the 'inclusive development' discourse? This session will bring together the perspectives of organisations on the ground such as UWEAL and African policy makers to discuss the recently published policy letter on 'inclusiveness' by Minister Ploumen.
The main guests at the Afrikadag are Makthar Diop, World Bank Vice President for Africa, Bert Koenders, Minister of Foreign Affairs, Lilianne Ploumen, Minister for Foreign Trade and Development Cooperation, and Lodewijk Asscher, Deputy Prime Minister and Minister of Social Affairs and Employment.
The main theme 'new players' in Africa will be discussed by many interesting speakers and enthusiastic visitors in more than 40 workshops, debates, lectures and on the information market. Special attention to the main theme will be paid during the 'China and Africa' debate and during the workshop by Michiel Hulshof about Chinese cities in Africa.
Of course, there is also a rich cultural programme with interviews, movies, live music, dance and a book presentation!
For information on the programme and how to order tickets, see the website.
The Africaday 2015 is sponsored by S&D, Oxfam Novib, Plan Nederland, Koninklijk Instituut voor de Tropen, Tax Justice Nederland, FMO, NIMD, EP-Nuffic, Cordaid, Partos and media partner Vice Versa.
Speaker
Dorothy Kanduhukye (UWEAL)
Barugahare Richard Zaramba (UWEAL)
Saskia Vossenberg (Institute of Social Studies/GRF)
Julie Newton (Royal Tropical Institute)
Date, time and location
Koninklijk Instituut voor de Tropen, Mauritskade 63, Amsterdam
Posted on 1 October 2015, last modified on 1 October 2015