1970 - Oppressed and resisting: dreaming of the liberation of southern Africa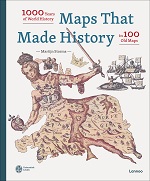 Civil wars and wars of liberation put southern Africa at the centre of world attention from the 1960s to the 1990s. It was a region where hope alternated with despair, disaster with dreams. This chapter analyses a map of southern Africa that was produced in 1970 by the Angola Comité, Rhodesië Comité and the Anti-Apartheidsbeweging Nederland. The map illustrates the tension between colonial legacies and rising nationalisms. As such, it refers to a disputed history while at the same time presenting an imagined future that has only partially come about.
This chapter is part of the book Maps That Made History: 1000 Years of World History in 100 Old Maps, edited by Martijn Storms and published by Lannoo.
About the author(s) / editor(s)
Full text, catalogue, and publisher website
Posted on 24 October 2022, last modified on 24 October 2022