18:30: Book presentation 'De Zwarte Napoleon' by Vamba Sherif
The book presentation will be in English.
The story of Samori Toure (1830–1900), labelled 'The Black Napoleon' by French military leaders in West Africa in that time, has fascinated Liberian-Dutch writer Vamba Sherif since childhood. The fact that a man of humble beginnings would rise up from the heart of Koniyan in present-day Guinea and go on to conquer an area almost the size of Europe is extraordinary in every sense. The area includes parts of what are now Liberia, Guinea, Sierra Leone, Mali, Côte d'Ivoire, Ghana and Burkina Faso. The impact of what happened during Samori's reign and his fights against the French and the British is still being felt today. Parts of his ancestry can be traced back to the people in present day Liberia, which is the main reason why Sherif decided to write a novel about him. De Zwarte Napoleon (The Black Napoleon) is the author's interpretation of Samori and his time, and of the forces that shaped it; and finally but most importantly, it is the story of the thirteen year old boy Zaiwulo from the forests in present-day Liberia who came into Samori's life and altered it forever.
We will also be presenting Sherif's book Bound to Secrecy, published in April of this year. In the tradition of supernatural detective fiction, this acclaimed novel explores the use and abuse of power in dysfunctional governments. It has been published in many languages, including German, Dutch, Spanish, French and English.
This evening you can purchase the books Bound to Secrecy (15€) and De Zwarte Napoleon (in Dutch, 21,95€; date of release 2 November 2015).
This book presentation will be preceeded, earlier that afternoon, by a seminar on ebola in Liberia by Dr Robtel Neajai Pailey (15.30-17.00).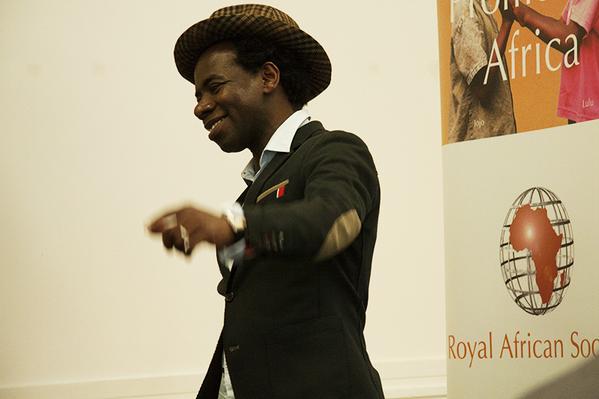 Vamba Sherif was born in northern Liberia, from a family which included members from different parts of West Africa. He grew up surrounded by books and in a tradition of scholarship that went back centuries. Moving to Kuwait at an early age he sharpened his awareness of the diversity in the world. It was in Kuwait that he discovered world literature. The first Gulf War forced him out of Kuwait and into The Netherlands where he read law and developed his talent as a writer. More than anywhere else, it was in Europe that he became keenly aware of himself as an outsider, as an exile from a country at war.
Vamba Sherif wrote the following novels: The land of the fathers (1999), The kingdom of Sebah (2003), The witness (2011) and Bound to secrecy (2015). His most recent novel The Black Napoleon will appear in Dutch (De Zwarte Napoleon) in November, the English version will come out in 2016.
Date, time and location
Pieter de la Courtgebouw / Faculty of Social Sciences, Wassenaarseweg 52, 2333 AK Leiden
Posted on 17 September 2015, last modified on 28 October 2015