Leonor Faber-Jonker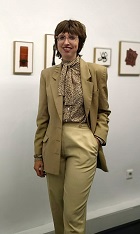 Leonor Faber-Jonker (1987) is an author and artist. In her work, she investigates the relation between objects and memory in practices surrounding statues, heirlooms, photographs, and collections. She is particularly interested in the colonial history of Southern Africa, collage, and 1980s counterculture.
In 2015, she graduated with honors from the research master Modern History at the University of Utrecht, with a thesis about the practices surrounding twenty skulls of Herero and Nama victims of the genocide in German South-West Africa (1904-1908). Using a material approach, she analyzed how these human remains acquired layers of meaning as trophies, anthropological specimens, museal objects, symbols, evidence, and ancestral remains. She was the scientific curator of an acclaimed exhibition on the Namibian genocide at the Mémorial de la Shoah, Paris (25 November 2016 – 12 March 2017).
In 2021, she was awarded a fellowship at the Research Center for Material Culture. She is currently working on a book about the Southern African heirlooms that she inherited from her grandmother and is an external PhD candidate at the African Studies Centre Leiden.
Keywords: Southern Africa, Southern Rhodesia, colonial history, objects, memory, collections, oral history, intergenerational narratives.
List of recent publications (selection):
'When Memories Become Dreams. The Patina of a Photographic Collection' in: J. Stobbe, R. Deen, and M. van der Waal (eds.), Magic Visions. Portraying and Inventing South Africa with Lantern Slides (SZAHN, 2022).
Introduction for Jackie Sibblies Drury, We Are Proud to present a Presentation about the Herero of Namibia, Formerly Known as Southwest Africa, from the German Sudwestafrika, between the Years 1884-1915 (Methuen Drama, 2021).
'Stalin's Ear: On the Material After(Lives) of a Statue' in: Ted Hyunhak Yoon, Decoding Dictatorial Statues (Onomatopee, 2019).
More than just an object : a material analysis of the return and retention of Namibian skulls from Germany (African Studies Collection 70, 2018).
Le premier génocide du xxe siècle. Herero et Nama dans le Sud-Ouest africain allemand, 1904-1908 (Paris: Éditions du Mémorial de la Shoah, 2017).