Janine Ubink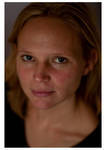 Janine Ubink has a law degree as well as a PhD in legal anthropology from Leiden University in the Netherlands. She has worked at the Van Vollenhoven Institute at Leiden Law School from 2001 until 2013, when she moved with her family to South California and joined the University of California Irvine (UCI) Law School. In 2018 she returned to Leiden University where she took up a position as Professor of Law, Governance and Development.
Her research focuses on legal pluralism, customary law and its relation with state law, traditional authorities, transitional justice, rule of law reforms, gender, and land management, with a regional focus on Africa, particularly Ghana, Namibia, Malawi, Somalia and South Africa. She has published on these subjects in various books and articles in peer-reviewed journals.
In 2012 she received a 4-year research grant from the Netherlands Organization for Scientific Research (NWO) VENI grant program for a project regarding 'customary legal empowerment', which focused on donor engagement with customary justice in the field of rule of law programming and transitional justice, with case studies in Malawi and Somalia. Her current research, a cooperation with the Land and Accountability Research Centre (LARC) of University of Cape Town, South Africa in consortium with other South African research and advocacy groups, studies customary land management and advises and challenges proposed legislation on traditional authority and customary land management.
She is the author of In the land of the chiefs. Customary law, land conflicts, and the role of the state in peri-urban Ghana (Leiden University Press, 2008) and has edited several other books, including Contesting land and custom in Ghana. State, chief, and the citizen (Leiden University Press, 2008) with K.S. Amanor; and Customary Justice: Perspectives on Legal Empowerment (International Development Law Organization, 2011). Recent articles include (with A. Rea) "Community justice or ethnojustice? Engaging with customary mechanisms for the reintegration of ex-combatants in Somalia, Uganda and Sierra Leone", International Journal of Transitional Justice, volume 11, issue 2, 2017; and "Access v. Justice: Customary courts and political oppression, lessons from Malawi's Local Courts Act", American Journal of Comparative Law 2016, 46(3): 745-784.
Janine also works as a consultant in this field, most recently as an advisor to the Ministry of Justice of Somalia. In December of 2015 she became the President of the international Commission on Legal Pluralism.