Alexander Tetteh Kwasi Nuer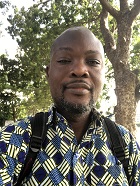 Alexander Nuer serves as lecturer and agribusiness, entrepreneurship and sustainability mindset, institutional economics and cross-cultural partnership food systems expert.
Alexander served as a Postdoctoral researcher with Wageningen University, specifically with the Agriculture Economics and Rural Policy Group between October, 2014 and October, 2016. He is attached to ISSER University of Ghana as part of his work in Ghana until December, 2016. Alex's core competencies hover around social entrepreneurship, institutional economics, marketing sciences, ICT4Agriculture, Value Chain, Sustainability Studies, Exit Strategies, Rural Entrepreneurship, Cooperative Entrepreneurship and Microinsurance, Microcredit, Youth and International Development Advocacy, Environmental Policy, Communication, Technology and Policy. Interestingly, he combines case studies that focus on agro-food chains and community development to study how joint efforts can induce and sustain projects and investments in developing economies, with emphasis on sub-Sahara African countries.
Alexander has worked on varied projects, researches and consultancies in Tanzania, Zambia, Rwanda and Ghana. He also holds a Bachelor of Arts in Political Sciences with Philosophy (Legon, Ghana), MSc in International Development Studies (Wageningen University & Research), and PhD in Social Venture Entrepreneurship (Wageningen University & Research). Alex also has diverse qualifications in food and nutrition security, food marketing, project development and management, E-Governance and among others from USA and Barcelona as well.
He worked as technical head under various projects in Ghana between 2004 and 2008. This include Ghana's Ministry of Trade and Industry's Rural Enterprises Development Program (REDP-2004 to 2006), Denkyiraman Development Company Limited (Public-Private Partnership-2005-2006), Opportunities Industrialization Centers International Ghana Program ( OICI Ghana)' Mining for Sustainable Development Program with Newmont Akyem Project ( A-LEEP 2006-2007) and Goldfields Ghana (SEED Tarkwa and Damang Mines-2007-2008).
Professionally, he is a member of the Academy of Management, Africa Academy of Management, United Nations PRME Aim2Flourish and Sustainability Mindset working groups. He is also a proud member of Netherlands Alumni Association of Ghana (NAAG) and AHASPORA Young Professionals, a returnee, diaspora and expat cohort in Ghana.