Web resources: Sudan Conflict 2023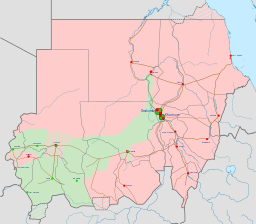 This ASCL Library list offers a selection of online resources on the recent violence in Sudan. It contains online articles, blogs, infographics, podcasts and videos, most of which are freely accessible.
This list will be updated when relevant new sources become available. If you would like to receive updates, subscribe to the ASCL Library alert service, and enter Sudan Conflict 2023 as search terms.
Blog : Sudanese Feminist Sisterhood: At the frontline of radical resistance and solidarity / Reem Abbas. Alliance Magazine Blog, 14 August 2023.
Blog : Lessons from Khartoum: Sudan's refugee crisis and the fallacy of containment policies / by Lutz Oette and Mohamed Abdelsalam Babiker. SOAS Refugee Law Initiative Blog, 24 May 2023.
Blog : Sudan's Catastrophe: A Long History of Failed Responses to Structural and Direct Violence / by Susanne Jaspars and Lutz Oette. African Arguments, 17 May 2023.
Blog : How years of impunity gave Sudan's generals licence to destroy my country / Hala al-Karib (Regional Director, Strategic Initiative for Women in the Horn of Africa (SIHA). The New Humanitarian, 3 May 2023.
Blog : Sudan: The flight for safety of Abdelmonim / Koert Lindijer. The Africanists, 8 May 2023.
Book : Routledge handbook of the Horn of Africa / edited by Jean-Nicolas Bach. Abingdon: Routledge, 2022.
Infographics : Sudan Shahid / C4ADS, 2023.
Infographics : Sudan conflict map / Benjamin Strick.
Infographics : Sudan: OCHA Situation Report. Reliefweb, 2023.
Infographics : Sudan situation report (3) / Displacement Tracking Matrix - DTM Sudan. 9 May 2023.
Infographics : Fact Sheet : Conflict Surges in Sudan / Ladd Serwat and Elham Kazemi, visuals by Ana Marco. ACLED, 2023.
Journal article : Resistance is life: how Sudan's resistance committees perform democratic power / Linda S. Bihai. In: The Journal of North African Studies (2023) (Restricted access)
Journal article : Sudan's Revolution of 2019: At the Crossroads of Africa and the Arab World / Kevin Anderson. Santa Barbara: University of California, 2022. (Free access)
Journal special issue : Remembering Darfur – marking 20 years of conflict and its fallout / Susanne Jaspars (SOAS), Musa A. Abdul-Jalil (University of Khartoum), and Sara Pantuliano (ODI) (eds.). In: Disasters (virtual issue, partly free access 2023)
Podcast : Bonus Episode: War in Sudan / The Horn, 22 April 2023.
Podcast : Machtsstrijd jaagt Soedanezen naar Egypte & Duitsland wil af van veto in Europa. Bureau Buitenland, 8 May 2023 (in Dutch)
Research paper : Sudan Conflict: Assessing The Risk Of Regionalization / Rift Valley Institute, June 2023.
Research paper : 'Hemedti challenges SAF's control over Sudan' / Rift Valley Institute, May 2023.
Timeline : Sudan timeline April-June 2023: Tensions between Sudanese army and the paramilitary RSF erupt into full-scale armed conflict / Dabanga Sudan, 14 July 2023.
Video : Between Us: The Sudan Conflict / Hiba Morgan. AlJazeera, 4 May 2023.
Web article : Sudan's future is being shaped by guns and money – like its past / Alex De Waal. The Conversation, 24 August 2023.
Web article : Sudan : Darfur Town Destroyed : ICC Should Investigate Killings, Looting by Rapid Support Forces, Arab Militias / Human Rights Watch. 11 July 2023.
Web article : Between two wars: twenty years of conflict in Sudan, from Darfur to Khartoum and back / By Jérôme Tubiana. AlJazeera, 30 June 2023.
Web article : Sudan: Why has fighting broken out there? / by Beverly Ocheng. BBC, 24 April 2023.
Web article : Sudan conflict: why is there fighting and what is at stake in the region? / Adam Fulton and Oliver Holmes. The Guardian, 27 April 2023.
Web article : Exposing the RSF's secret financial network / Global Witness. Global Witness, 9 December 2019.
Web overview : Experts Insights: Sudan / Annette Hoffmann and Guido Lanfranchi. The Hague: Clingendael.
Webinar: Sudan's Revolution: What Comes Next? / Arab Reform Initiative, YouTube Channel, 10 January 2022.
Website: Dabanga: independent news from the heart of Sudan. News reporting.
Website : Ayin Network: what's happening in Sudan, in sight and sound. News reporting.
Web reports : The Sudan Conflict Monitor #1, #2, #3, #4, #5, #6. Ayin Network; Sudan Transparency and Policy Tracker; Sudan Human Rights Hub, 2023.
Web reports : Situational awareness reports / Sudan Conflict Observatory, 2023.
Web report : Sudan's 2019 Constitutional Declaration: its impact on the transition / Davies, B. Stockholm : International Institute for Democracy and Electoral Assistance (International IDEA), 2022.
Web report : Breaking the bank : how military control of the economy obstructs democracy in Sudan / Catherine Cartier, Eva Kahan and Isaac Zukin. C4ADS, 2022.
Web report : The fall of al-Bashir: mapping contestation forces in Sudan / El-Gizouli, M. Arab Reform Inititiative, 2019.
Web report : General framework for the programme of the transitional government / Ministry of Cabinet Affairs, Republic of Sudan. Khartoum : Ministry of Cabinet Affairs, 2019.
See also all titles on Sudan in the ASCL Library catalogue, and the ASCL Library webdossier on the aftermath of the Arab Spring.
Posted on 11 May 2023, last modified on 19 September 2023