Willem Elbers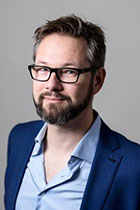 Willem Elbers seeks to combine academic excellence with practical relevance in the field of development. The interaction between science and practice is apparent in his research on civil society, partnerships, advocacy, disability and power. His PhD research on social transformative and managerial logics forms the basis of the present-day civil society policy of the Dutch Ministry of Foreign Affairs. Willem's ongoing research on inclusive development in Cameroon, Zambia and Sierra Leone won the Impact Challenge Award in 2019.
List of recent publications:
Elbers W. & Kamstra J. (2020). How does organizational capacity contribute to advocacy effectiveness? Taking stock of existing evidence. Development in Practice Frobisher, E., Elbers W, and Okwany A. (2019) Gender disability activism: lessons from the Girl Power Project in Sierra Leone. in: The Routledge Handbook of disability activism.
Dewulf A. & Elbers, W. (2018). Power in and over Cross-Sector Partnerships: Actor Strategies for Shaping Collective Decisions. Administrative Sciences.