Sanya Osha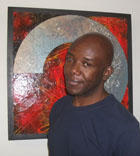 Sanya Osha holds a PhD in Philosophy and taught the discipline in Nigerian universities for a decade. He has published extensively on anthropology, cultural studies, knowledge systems of Africa, the politics of the West African region and also the sociopolitical and cultural realities of Southern Africa. He has undertaken extensive research on the discursive status of African systems of knowledge. He also spent a decade studying and teaching the sociological and political aspect of innovations studies.
As an academic, he has held the following research positions; visiting scholar, Smith College, U.S.A., 2003; visiting scholar, University of Groningen, The Netherlands, September to November, 2003; visiting fellow, African Studies Centre, Leiden, The Netherlands, 2005. In addition, he was a post-doctoral scholar at the University of Kwa-Zulu-Natal, Durban for almost three years. He was also a senior researcher at the School of Graduate Studies, University of South Africa between 2007 and 2009. He joined the Institute for Economic Research on Innovation (IERI), Tshwane University of Technology as a research fellow in 2009. Between 2011 and 2012, he was a fellow of the Africa Institute for South Africa.
Some of his major publications include, Kwasi Wiredu and Beyond: The Text, Writing and Thought in Africa (2005), Postethnophilosophy (2011) African Postcolonial Modernity: Informal Subjectivities and the Democratic Consensus (2014) and Dani Nabudere's Afrikology: A Quest for Africa Holism (2018). He is also a co-editor of The Africana World: Fragmentation to Unity and Renaissance (2012) and editor of The Social Contract in Africa (2014).