Pui-Hang Wong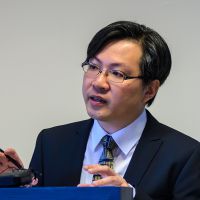 Pui-Hang Wong is a development economist. He obtained his PhD in economics from Maastricht University. Currently, he is a lecturer at Maastricht University and the United Nations University - Maastricht Economic and Social Research Institute on Innovation and Technology (UNU-MERIT). He has been a visiting researcher at the Peace Research Institute Oslo (PRIO) and the Center for Economic Catch-Up at Seoul. His research interests include political violence, post-conflict reconstruction, political economy, regional economics, and sustainable development.
Recent publications:
Wong, Pui-Hang (2022). Moral injury in former child soldiers in Liberia. Journal of Child & Adolescent Trauma, 15(3): 847-856.
Wong, Pui-Hang (2021). Economic Deprivation: Approaches, Causes, and Consequences for Violent Conflicts. In L. Filho et al. (eds.) Peace, Justice and Strong Institutions. Springer. pp. 187-197.
Türkeli, Serdar, Pui-Hang Wong and Eleni Yitbarek (2020). Multiplex learning: An evidence-based approach to design policy learning networks in Sub-Saharan Africa for the SDGs. In M. Ramutsindela and D. Mickler (eds.) Africa and the Sustainable Development Goals. Springer. pp. 279-292.
Merkle, Ortrun and Pui-Hang Wong (2020). It is all about power: Corruption, patriarchy and the political participation of women. In M. Konte and N. Tirivayi (eds.) Women and Sustainable Human Development: Empowering Women in Africa. Palgrave Macmillan. pp. 353-368.
Sillen, Daan, Pui-Hang Wong and Serdar Türkeli (2019). Community currency programmes as a tool for sustainable development: The cases of Mombasa and Nairobi Counties, Kenya. 2019. UNTFSSE Knowledge Hub Working Paper.
Wong, Pui-Hang & Mehmet Guney Celbis (2019). Human rights, income and international migration. International Migration, 57(3): 98-114.
Wong, Pui-Hang (2016). How can political trust be built after civil wars? Evidence from post-conflict Sierra Leone. Journal of Peace Research 53(6): 772-785.