Miriam Adelina Ocadiz Arriaga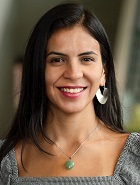 Miriam (Mimi) Adelina Ocadiz Arriaga is a multidisciplinary researcher and creative writer focused on migration and mobility from an (African) feminist and decolonial perspective. Her very first studies were Hispanic Literature and Language at the UNAM in Mexico, her home country, followed by a Bachelor in International Studies at Leiden University where she specialised in African Culture and Politics. Afterwards, she did a two-years Research Master in African Studies (cum laude) dedicated to the Cuban medical cooperation in Mozambique and the contemporary embodiment of solidarity. Under the supervision of Prof. Mayke Kaag, her dissertation was awarded by the Expertise Centre of Humanitarian Communication of the Netherlands.
In line with her passion for critical migration studies, she has been a PhD candidate since 2018 at the Vrije Universiteit Amsterdam within the Refugee Academy project Engaged Scholarship Narratives of Change. Supervised by Dr Phoebe Kisubi Mbasalaki, Dr Tara Fiorito and Prof. Halleh Ghorashi, Mimi has theorised and put into practice manifestations of care that enable epistemic justice, which in turn support the decolonisation of academia. Her projects include Food for Change, an initiative with eight forced migrant women in Gqeberha, and the Chakalaka Sessions, a brunch series with LGBTQI+ migrants in Johannesburg. Both projects address the way food helps to create unexpected pathways to transform asymmetrical power structures.
Recent publications:
Ocadiz Arriaga, M. A. (2023). 'Loboko Ya Mama': Homemade recipes of belonging. Agenda, 1-11.
Ocadiz Arriaga, M. A. (2021). Estamos Juntos E Misturados! Intercultural Translation Between Mozambican and Brazilian Students1. In Destination Africa (pp. 169-195). Brill.
Ocadiz Arriaga, M. A, & Kaag, M. M. A. (2019). A plea for kaleidoscopic knowledge production. In Researching South-South development cooperation: the politics of knowledge production. Routledge.
Ocadiz Arriaga, M. A (2018). Una ruta transatlántica: La actual cooperación médica cubana en Mozambique. Orígenes, 12–15.