Manase Chiweshe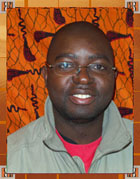 PhD. Sociology, Rhodes University, South Africa (2009 - 2012). Dissertation: Farm level institutions in emergent communities in post fast track Zimbabwe: Case of Mazowe district
MSc. Sociology and Social Anthropology, University of Zimbabwe (2005-2006). Course work covered the following; social science research methods, social theory, rural development, gender and feminism and social policy and social administration. Dissertation: Football fandom in Zimbabwe
BSc. Sociology and Social Anthropology (Honours), University of Zimbabwe (2002-2005).
Key competencies include: Qualitative and quantitative research methodologies; Policy analysis and advocacy; Report writing; and Monitoring and evaluation.
Research areas include: Agrarian studies; Gender and feminist theory; Poverty and natural resource management; Sport and leisure studies; and Urban sociology.