Luca Bruls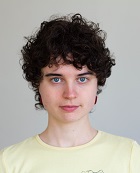 Luca Bruls is a junior researcher at the ASCL as part of the project 'Decoding Digital Media in African Regions of Conflict'. She holds a BA in Arabic Language, a BA in Cultural Anthropology and a ResMA in Middle Eastern Studies. For her master thesis she conducted ethnographic fieldwork on TikTok usage among Algerian youth. Luca also teaches introductory courses in anthropology at the University of Amsterdam.
Themes of specialization: digital media, TikTok
Publications:
Bruls, Luca (forthcoming). "Algerian Youth and the Contestation over Sound on TikTok." CyberOrient 16 (2).