Katrin Langewiesche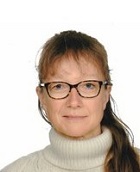 Katrin Langewiesche completed her doctorate at the École des Hautes Études en Sciences Sociales in France. She is currently a member of the academic staff of the Department of Anthropology and African Studies at the Johannes Gutenberg-Universität, Mainz in Germany. She works on topics relating to the anthropology of religion in West Africa: religious plurality in modern societies, conversion theories, Faith-based organizations, Catholic convents between Europe and Africa, and Islamic transnational networks.
One of her recent publications is the volume 'Rencontres religieuses et dynamiques sociales au Burkina Faso' (Amalion, 2019) with Alice Degorce and Ludovic Kibora.
The research project for the African Studies Centre fellowship was an empirical study of Ahmadiyya Islam in three West African countries (Burkina Faso, Ghana, Benin) and two European countries (Germany, France). This project explored humanitarian engagement and mission in the context of the Ahmadiyya movement.
She currently coordinates with Alice Degorce a Franco-German research program "Religious diversity and traditions in Burkina Faso: historical and current issues" (ANR/DFG 2020-2024).
Recent publications:
2019 L'enquête et ses graphies en sciences sociales. Figurations iconographiques d'après société. with Jean-Bernard Ouédraogo (eds.), Edition Amalion, Dakar
2020 Conversion as negotiation. Converts as actors of civil society. Religions 2020, 11, 322; doi:10.3390/rel11070322
2021 Monastères et développement (Sénégal, Burkina Faso, Bénin, Guinée-Conakry, Togo, Kenya, Ghana), special issue, Cahiers d'études africaines, n° 243, Septembre 2021
2021 A Muslim Minority and the Use of Media. Charismatic Aesthetics of the Ahmadiyya in West Africa. Islamic Africa 12 (2021) : 211–239.