Jan Abbink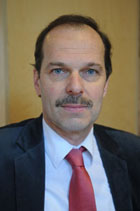 Jan Abbink is an anthropologist-historian and carries out research on the history and cultures of the Horn of Africa (Northeast Africa), in particular Ethiopia.
He has done a number of research projects, the first one being a study of Ethiopian immigrants in Israel in the 1980s, the second an ethnographic-comparative study of agro-pastoralist peoples in Southwest Ethiopia. His current projects are a socio-cultural history of Ethiopia, an historical-cultural study of the relation between governance, political culture and religious discourse, and further ethnological studies of southwest Ethiopian ethnic groups, livelihoods and conflict. He is also interested in theoretical and epistemological issues in social science (with various publications).
From 2000 he was Professor (extraordinary) of African Ethnic Studies at the VU University in Amsterdam and supervised a number of PhD students there. Since 2020 he is an Emeritus Professor of Politics & Governance in Africa as the ASCL at Leiden University (currently supervising 5 PhD candidates).
Keywords: Africa, political culture, religious discourse and politics, political ethnography studies, governance and development, cultural history of Northeast Africa.