Dorine van Norren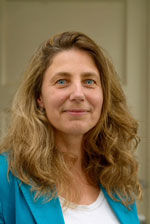 Dorine van Norren has a master in international and Dutch law (1995) and a PhD in law and development studies (2017, Tilburg University and university of Amsterdam). The title of her dissertation was 'Development as Service: A Happiness, Ubuntu and Buen Vivir interdisciplinary view of the Sustainable Development Goals'. She studied law in Amsterdam and South Africa (Capetown) and French for a year in France (Lyon). She worked as a diplomat in Sri Lanka (Colombo, 1998-2001) and Turkey (Ankara, 2001-2005) and held several positions at the ministry of foreign affairs (Southern Africa, '96-'98, North America, 2005-2009, European Integration, 2013-2014, desks). She was attached to the Advisory Council of International Affairs (AIV, 2009-2013), as an executive secretary for the Commission on Development. She is currently seconded to the Ministry of Education, Culture and Science, as a coordinator for UNESCO. She gives (inter)national lectures on her PhD and published several articles and blogs.
She is also a self-taught visual artist, the works of which are represented in her PhD.
Keywords: Ubuntu, (South) Africa, Sustainable Development Goals, broader wellbeing, law.